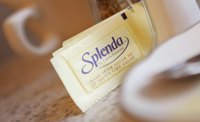 Splenda, a brand name for the artificial sweetener sucralose, was approved by the U.S. Food and Drug Administration in 1998. Since then, research has brought to light some potential health and safety considerations with Splenda and other artificial sweeteners, although it is still generally regarded as safe by the FDA.
Issues With Splenda
Artificial sweeteners may make some people more likely to gain weight than lose weight, according to a June 2010 review article published in the Yale Journal of Biology and Medicine. People who drink artificially sweetened sodas also may be more likely to develop Type 2 diabetes, according to a study published in Diabetes Care in April 2009.
An article published in the Journal of Toxicology and Environmental Health in September 2013 notes that although it was originally thought that Splenda passed through the digestive tract unchanged, this isn't the case. In fact, Splenda causes changes that reduce beneficial bacteria in the gastrointestinal tract, which may alter blood sugar and insulin levels.
Recommended Limits
People with migraines may want to avoid Splenda, as it can trigger migraines, according to an article published in Headache in September 2006.
The FDA set an acceptable daily intake of 2.3 milligrams per pound of body weight. Diet soda sweetened with Splenda typically contains between 40 and 60 milligrams per 12-ounce can, so you can easily exceed that recommendation if you drink a lot of artificially sweetened products. For example, a 120-pound woman would top that by drinking five 12-ounce cans of soda per day.
The Center for Science in the Public Interest has put Splenda on its caution list and recommends trying to avoid this sweetener until further research proves it to be safe.