Taking fish oil supplements helps increase your intake of two omega-3 fats -- docosahexaenoic acid, or DHA, and eicosapentaenoic acid, or EPA. These omega-3 fats may help lower your risk for certain health conditions, including heart disease and dementia. Speak with your doctor before taking fish oil supplements, however, as they can cause adverse effects in some people.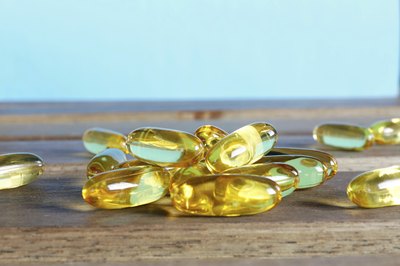 Potential Side Effects
Mild side effects sometimes associated with fish oil supplements include gas, bloating, belching, upset stomach, skin rash, an unpleasant taste in your mouth and back pain. If you should experience chest pain, uneven heartbeats, body aches, chills, fever of flu symptoms, contact your doctor right away. Other less common and potentially serious side effects include dizziness, prolonged bleeding and unusual tiredness.
Medication Interactions
If you take fish oil around the same time as you take certain other medications, it could cause a potentially dangerous interaction, making the medication either more or less effective and making side effects more likely. These medications include beta-blockers, hormone replacement, birth control pills, blood thinners, diuretics, diabetes medications, cyclosporine and nonsteroidal anti-inflammatory drugs.
Allergic Reactions
If you're allergic to fish, you could experience an allergic reaction to fish oil. Contact your doctor right away if you experience symptoms of an allergic reaction, which could include swelling of your throat, tongue, face or lips; difficulty breathing; hives; sneezing; runny nose; nausea; vomiting; diarrhea; or headaches. Some people may be allergic to just certain types of fish, while others could experience reactions from any fish or fish oil product, according to the American College of Allergy, Asthma and Immunology.
Other Considerations
Choose supplements from reliable manufacturers that certify the supplement is free from contamination with mercury, PCBs, dioxins or pesticides.
Only take fish oil supplements under the supervision of your doctor if you have type-2 diabetes, as it may cause increases in blood sugar levels.
Some preliminary research shows that fish oil supplements may increase the risk for prostate cancer, according to Harvard Medical School, which recommends getting your omega-3 fats from whole foods, such as fish, instead of supplements. The potential benefits from omega-3 fats may be due to the combination of nutrients in fish, rather than just the omega-3 fats in the fish oil.
Omega-3 supplements may have an anti-inflammatory effect, helping to reduce pain in a similar way to NSAIDs, according to a study published in Surgical Neurology in April 2006. They may also help decrease leg aches caused by problems with blood flow to the extremities, although research results in this area are still preliminary and conflicting.