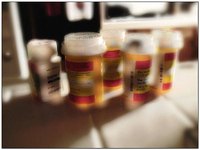 If you are taking antidepressants, it usually means you may suffer from depression, bipolar disorder or another mental illness. Deciding to mix alcohol, a depressant, while taking antidepressants may be harmful. There are a number of negative consequences from the mix of alcohol with any medication. Below are some of the risk from mixing alcohol and antidepressants.
Makes Drugs Ineffective
Alcohol is a depressant. So drinking alcohol will render antidepressant medications ineffective thus making the depression worse.
MAOI interactions
Certain drugs called monoamine oxidase inhibitor (MAOI) can raise your blood pressure when mixed with alcohol. This mix has been known to cause strokes and could be fatal.
Blackouts
Mixing alcohol with antidepressants can also cause blackouts to occur. Since both alcohol and antidepressants affect neurotransmitters in your brain, it is as though they are competing for the space. Blackouts and memory loss will happen quickly.
Sedation
Alcohol, being a depressant, can cause severe sedation when mixed with antidepressants. This severe sedation has been known to lead to car accidents, comas and death by accidental overdoses.
Misconceptions
While many people say it is OK to mix alcohol and antidepressants if you only have one drink, why take the chance. You do not know for sure how the drugs and alcohol will mix in your system. Every person is different and medication dosages are different. Consult your doctor.
Warning
If you have additional concerns about drinking alcohol while taking antidepressants, be sure to discuss this with your doctor or psychiatrist. They will be able to tell you information specific to you and your medications.
Fact
The National Institute on Alcohol Abuse and Alcoholism reports that at least 25 percent of all emergency room admissions are direct results of mixing alcohol and medications.