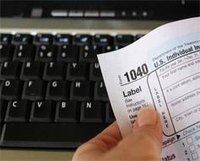 Failing to file a tax return is taken very seriously by both federal and state authorities. In the case of the Internal Revenue Service, latest available statistics suggest that about seven percent or $25 billion of the total "tax gap" comes primarily from individuals not filing returns. The estimated total amount of lost revenue from non-filing and underpayment of taxes was $345 billion in 2001.
Significance
According to the Internal Revenue Code section of the U.S. Code, failing to file a return when due without a reasonable excuse can lead to a five percent penalty of tax due per month up to 25 percent.
Effects
Willfully not filing a return is a misdemeanor according to the Internal Revenue Code Section 7203. Depending on the circumstances, this can be escalated to a felony. There may be civil penalties as well.
Considerations
The IRS prepares tax returns for payers who do not file returns. The IRS version may well not include deductions and exemptions that the taxpayer could legitimately claim.
Prevention/Solution
The best way to prevent penalties of course is to file tax returns on time. However, the IRS generally has not imposed criminal prosecution on individuals who don't file if they voluntarily file when they are notified.
Warnings
There are specific sentencing guidelines in federal law for not filing a return when a felony is involved. The guidelines specify fines for an individual up to $100,000 and/or imprisonment up to five years.