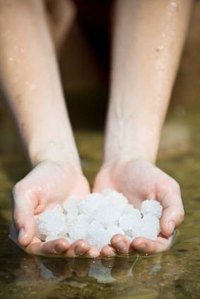 For centuries, mineral salts were used as curatives for various health conditions and overall well-being. People have traveled the world in search of healing spas to seek relief from various ailments. Two of the most universal salts are from the Dead Sea and Epsom.
History
Before the days of Cleopatra, the restorative powers of Dead Sea salt benefited many as a treatment. Cleopatra herself bathed in them often to nurture herself. Epsom salts are named after the mineral springs of Epsom, England, a spa town from the late 1600's. Today, Epsom salts are replicated from the restorative springs.
Types
Dead Sea salt is available in numerous forms including creams, lotions, salts, scrubs, soaps, shampoos and mud masks. Grains can be fine or coarse. Epsom salt comes in two forms, granular and tablets to be ingested. Both salts are available in combination with aromatic oils.
Benefits
Nutrient rich Dead Sea salts assist in managing rheumatoid conditions, skin ailments and skin aging. Naturally therapeutic for care of the body, they can be used long term without ill effects. Epsom salts are for short-term use. Orally, it is used as a laxative. Epsom salts are used in the bath to soak aching, sore muscles or to soothe and relax the body. Epsom salts neutralize odor. Both salts soften skin and draw toxins from the body.
Features
Dead Sea salts contain a high concentration of salts and natural minerals. They are rich in magnesium, sodium, potassium, calcium and bromine. Extremely saline, it comes from only one source: the Dead Sea. Epsom salts on the other hand contain a specific salt, magnesium sulfate, rather than different mineral compounds of salt. Epsom salt is also comprised of chloride and boron. It is a white, granular salt that can be chemically or synthetically made.
Prevention/Solution
Dead Sea salts are one the finest therapeutic salts. With regular use, Dead Sea salts can effectively manage and improve arthritis, dry skin, eczema and psoriasis. Absorbed through pores, it is beneficial in relieving muscle tension, aches and pains. Epsom salts replenish the level of magnesium in the body to relax the nervous system and relieve inflammation. Epsom salts expedite healing, relieve stress and treat minor sprains or bruises. Both can be used to exfoliate skin.
Potential
More costly, unrefined Dead Sea salts promise curative powers. With regular use, the salts improve various skin conditions and overall care for the body. Some commercial product lines combine both salts. Epsom salts naturally relax the nervous system, lower blood pressure and relieve inflammation. Regular usage can cause allergic reactions. Certain over-the-counter and prescription drugs, vitamins and herbal products used with Epsom salts can cause serious side effects. Epsom salts should be used under physician's instruction.