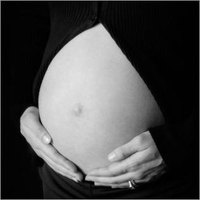 Ask any pregnant woman what a gallbladder attack feels like, and you will likely get varied responses. Some might say it felt as though they were having a heart attack. Others might claim they felt as though they were being poked repeatedly in the side with a sharp object. Regardless of the specific feeling, its pain is almost comparable to that of childbirth. The scariest feeling is not knowing what is causing the pain.
Significance
Two percent to 4 percent of pregnant women are found to have gallstones during their ultrasound, making gallbladder removal the second-most-common surgery performed during pregnancy.

Function
Pregnancy increases the levels of estrogen and progesterone. These increased levels affect the ability of the gallbladder to contract and excrete its bile, promoting the formation of gallstones.

Typical Symptoms
Symptoms most cited are pain between the shoulder blades, under the right shoulder and in the upper abdomen that can last from 30 minutes to a few hours. You might also experience gas, indigestion, nausea and vomiting.
Severe Symptoms
It should be noted that if you experience any of these symptoms, you need to seek medical treatment immediately. They include sweating, low-grade fever, chills, clay-colored stools and a yellowing of the skin or whites of the eyes.
Treatment
If gallbladder attacks become too frequent and the pain too severe during your pregnancy, laproscopic surgery can be performed to remove your gallbladder. This procedure is safe for both you and the fetus.