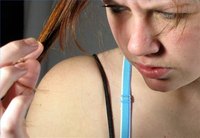 Nobody likes having hair that looks dull, brittle or frizzy. However, it can be expensive to purchase salon-quality conditioners, and many conditioners that promise to smooth hair contain chemicals that are not environmentally friendly. Here are some suggestions for preventing frizz and home remedies for getting the smooth hair you want.
Significance
Hair may be frizzy naturally or may become frizzy due to humid weather. Hair that is damaged from excessive dyeing or perming may also have a rough and brittle texture (see Resources below).
Prevention/Solution
Combing and styling curly or frizzy hair gently will help prevent split ends and will make the hair look smoother. Curly hair is often dry hair, so it's also best not to shampoo every day.
Types
Home remedies for smooth hair include using wide-toothed combs, letting hair air dry whenever possible, trimming split ends frequently and using a good quality leave-in conditioner.
Expert Insight
Many people with curly hair swear by using olive oil or mayonnaise as an occasional deep conditioner. Warm a few tablespoons of olive oil or scoop out about a tablespoon of mayo, apply to hair, let it sit for half an hour and then shampoo as usual.
Warning
Using hair straightening products can damage hair and make it look less shiny and smooth over time. It's best to use styling products and combs that are intended to manage curly hair, not products meant to eliminate curls altogether.