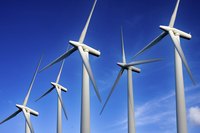 Your decision regarding a potential investment in a company should be made within the context of your long-term investing needs. Consider how an investment in a particular company will affect the risk-return profile of your overall investment portfolio. Decide which asset class is most appropriate and invest in the company with an eye toward diversification. You can purchase a minority equity interest in a company, lend it money -- a fixed income investment -- or start up a company.
Acquiring Employment
There are benefits to owning your own business. You can start up a new venture or buy into an existing company to create a job for yourself. A good reason to start your own company is a genuine passion for the business. If you have created proprietary technology or have a novel idea, formulate a business plan to present to potential lenders and angel investors. Owning your own business means you retain corporate control, which is especially valuable relative to any minority investors in the company, particularly in the case of any shareholder disputes.
Diversification
Diversify to maximize your portfolio's expected risk-adjusted returns. When considering any investment, review your portfolio with respect to investment time-horizon, liquidity needs, risk tolerance, tax situation and any other special considerations. You don't need to worry about short-term price movements if you are a long-term investor, although it may be a good idea to enter the investment after a major market correction. You can analyze the stock's correlation to other equity investments already contained within your portfolio.
Industry Trends
You may be interested in investing in a certain industry by investing in a specific company, as opposed to an industry fund or industry-specific exchange-traded fund. When you invest in one specific company, you avoid any management fees associated with managed, or even passive, funds. You may be attracted to the industry due to high projected growth rates, new technologies or shifting market dynamics. If your current investment portfolio has a high percentage of funds allocated to a specific industry, consider investing in a company from another industry to increase diversification.
Social Responsibility
An interest in investing in socially responsible companies raises the profile of certain companies as prospects for inclusion within your investment portfolio. If the company is a startup, you may be able to invest as an angel or early round investor by investing in convertible bonds or preferred debt. This assists the company with a socially responsible mission while diversifying your investment portfolio by asset class.