Vitamin B-12 is a water-soluble vitamin you need on a daily basis. It's prevalent in animal foods such as meat, poultry, shellfish, eggs, dairy products and nutritional yeasts. Adults need 2.4 micrograms of vitamin B-12 a day. If you are a vegetarian, it can be difficult to meet this recommendation because vegetables don't naturally contain vitamin B-12 except for seaweed. Vegetables fortified with this nutrient can contain the inactive vitamin B-12, which hinders absorption. You probably won't be able to eat enough vegetables to meet the vitamin B-12 requirement, so look to other nutritional sources to meet your needs.
Dried Purple Laver
Purple and green sea algae, or laver, contain vitamin B-12. According to a study published in 2014 in Nutrients, dried purple laver contains the highest amounts of vitamin B-12, while seasoned and toasted purple laver contain fewer amounts. You can find this food, also known as nori, in grocery stores as pre-toasted sheets to make sushi, but you would need to eat a lot of sushi. Four grams of dried purple laver contain the vitamin B-12 RDA, but one sheet of nori is only 0.3 grams. Dried purple laver also boasts other key nutrients including vitamin A, iron and omega-3 fatty acids.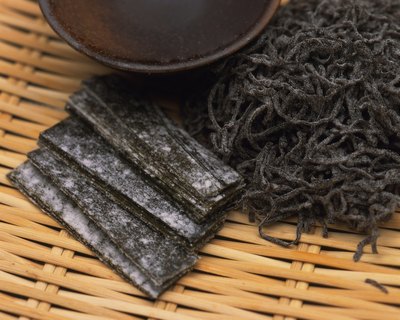 Naturally Foritified Mushrooms
You can also obtain vitamin B-12 from certain mushrooms. A study published in 2009 in the Journal of Agricultural and Food Chemistry showed vitamin B-12 in white button mushrooms. The amount varied depending on the farm where the mushrooms were grown, and this nutrient was concentrated in the outer peel of the mushroom. The researchers believe the mushrooms obtained their vitamin B-12 from bacteria in the soil in which they're grown. Other mushrooms that contain vitamin B-12 include dried shiitake, black trumpet and golden chanterelle.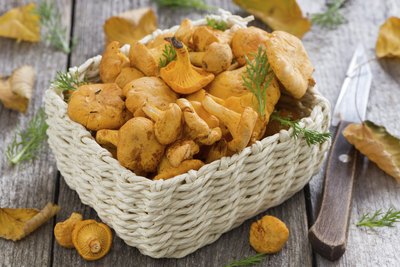 Fortified and Fermented Vegetables
Vitamin B-12 is nonexistent in soybeans, but fermented soy, also known as tempeh, contains this nutrient. The 2014 study in Nutrients suggests that healthy bacteria contaminate the soybeans during the fermentation process. Look for tempeh at your local grocery store. Slice or cube it and fry until golden brown, or incorporate it into soups, salads and sandwiches. There have been attempts to fortify vegetables by treating soil with organic fertilizer such as cow manure. This increased the vitamin B-12 content of plants grown in that soil, but most organic fertilizers contain the inactive vitamin B-12 compound, which actually prevents absorption of the nutrient.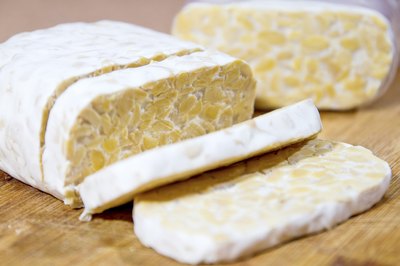 Other Options for Vegetarians
Vegetables are not the richest or most reliable source of vitamin B-12, and it's not practical for you to eat enough nori, mushrooms, or tempeh on a daily basis to sufficiently meet vitamin B-12 needs. Vegetarians must look to other sources to avoid a vitamin B-12 deficiency. More practical options include nutritional yeast and fortified soy milks and energy bars. If you are concerned about your vitamin B-12 levels, speak to your physician about taking a supplement. Symptoms of a vitamin B-12 deficiency include tingling in your hands and feet, poor coordination, anemia, memory loss, swollen tongue, jaundice, weakness, fatigue and hallucinations.