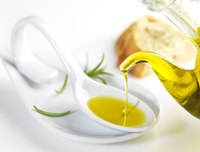 Comparing olive oil to canola oil is a little bit like pitting a strawberry against a blueberry. Both have their place in a healthy, balanced diet, with neither clearly "better" than the other. Before you choose an oil, consider how you're planning to use it. Certain cooking or preparation techniques are more appropriate for olive oil than canola oil, and vice versa.
Nutrition Comparison
Nutritionally, olive oil and canola oil are very similar. In 1 tablespoon, olive oil has 120 calories and 13.5 grams of fat, 11.5 grams of which are unsaturated. The same amount of canola oil has 125 calories and 14 grams of fat, about 13 of which are unsaturated. So if your goal is to choose the oil with the lower saturated fat content, canola has slightly less than olive. More than 90 percent of the canola oil sold in the United States is genetically engineered, however. If you prefer non-GE oil, choose olive oil or seek out organic canola oil.
Smoke Point
An oil's smoke point is the temperature at which it begins to smoke and break beneficial nutrients down into substances that can be harmful, such as free radicals. Olive oil has a lower smoke point than canola oil, which means it is less suitable for cooking at high temperatures and more suitable for using cold, such as in salad dressings or as a butter substitute on bread. Canola oil's smoke point is "medium-high," so it is appropriate for using cold as well as baking and sautéing foods at medium temperatures.
Unsaturated Fats
Both olive and canola oils are rich sources of healthy unsaturated fats, including omega-6 fatty acids and omega-3 fatty acids. Canola oil is made up of about 20 percent omega-6 fatty acids, while olive oil is only about 10 percent. Although some omega-6 fatty acids are essential in a healthy diet, too many can cause problems because omega-6s can promote inflammation. The lower amount of omega-6 fats is one reason to opt for olive oil over canola oil. According to the University of Maryland Medical Center, following an eating plan such as the Mediterranean diet -- which emphasizes olive oil over other oils as a fat source -- provides a healthy ratio of omega-6s to omega-3s.
Taste Considerations
A final factor to consider in whether you should use olive oil or canola oil is taste. Olive oil has a distinct flavor that can range from grassy to fruity. Some varieties are more pungent than others, but all have a flavor that they impart to the foods you use with them. If you prefer that your other ingredients be the main attractions, canola oil is the better choice because it has more neutral tones.