More Frequent Meals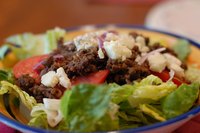 When someone wants to gain weight, the solution is to increase calories throughout the day by having small, frequent meals spaced three to four hours apart. It is also helpful to add small snacks between meals and/or before bedtime.
Healthy Food Choices
Eating more frequently shouldn't include filling up on unhealthy, empty-calorie foods. A balanced eating plan includes a variety of healthy foods from all food groups. Adding high-calorie condiments is also part of a weight-gain strategy. For example, that may involve adding cheese to chili and olives and nuts to a salad. Also, drinking fluids before or after meals leaves more room for food at mealtime.

Bottom Line
For successful, smart weight gain, the key is to have small, frequent meals of quality, nutrient-rich foods throughout the day. People wanting to gain weight should contact a registered dietitian or nutritionist for help with developing an eating plan.