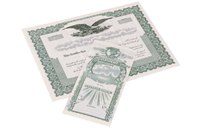 The number of Americans who own stock has jumped with the advent of 401ks and other employer-supported stock options. This has been a blessing and a curse in that although some Americans are seeing increased dividends, they are also seeing their tax situation become more and more complex. Understanding how the selling of stock affects you at tax time is relatively easy to understand.
Types
Stock options give you the right to buy and sell a specific amount of stock during a specified time frame. There are two types of stock options -- statutory and nonstatutory. Statutory stock options are those offered by an employer to an employee, while nonsatutory options are those not offered under any employer/employee arrangement. Dividends are distributions paid to individuals because they hold stock in a corporation. As with stock options, there are two types of dividends -- ordinary and qualified. Ordinary dividends are the most common type of dividend paid while qualified dividends meet criteria which allow them to be taxed differently from ordinary dividends.
Taxation
Generally, if you sell your stock options, you will be required to list the gain or loss from the sale on your income tax return. Ordinary dividends are taxed as ordinary income and should be included as such on your tax return. Qualified dividends, however, are those which qualify to be taxed at a lower capital gains rate. The lowered rate can range from 0-15 percent.
Reporting
If you were paid dividends during the year, then you should receive a 1099-DIV from your payer. Use line 13 on Form 1040 to report gains and losses from stock. You will use Schedule D to determine the amount to enter into line 13. Then, attach Schedule D to Form 1040 and submit it electronically or mail it to your local Internal Revenue Service processing center. Remember, you cannot use IRS Form 1040A or 1040EZ to report income and loss from stock sales.
Exclusions
Any distributions that meet the IRS guidelines to qualify as return on capital are not considered dividends. This category mostly affects individuals who had some initial investment in the company from which they are now receiving distributions. You fall into this category if you invested in the company and the company has no reported earnings or profits. Also, no capital gain or loss is recognized when stock is transferred between spouses.
Considerations
If you receive large amounts of dividends, then you may be required to pay estimated tax to cover the tax on your gains. Estimated taxes are due on the 15th of January, September, April, and June. Paying the estimated tax will prevent you from owing tax when filing season comes. Use IRS Form 1040-ES to determine the amount of your estimated tax payments.