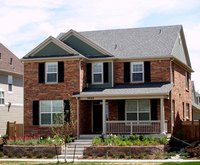 If you stop making payments on a credit card or loan, the creditor or lender may take you to court, resulting in a judgment against you. The amount of time that a judgment may stay on your record depends on the state you live in, as different states have different limits, but in some cases, a judgment can haunt you for as many as 20 years, according to the Fair-Debt-Collection website. Despite having a judgment on your credit report, it is possible to get a mortgage.
Big Picture
When deciding whether to issue you a mortgage, a bank or lender will look at the big picture. If you have a judgment and various other negative items on your credit report, such as accounts in default, you are facing an uphill battle. If, however, the judgment is the only negative on your credit report, a lender may decide that you are worth the risk and extend a mortgage. Thus, before approaching banks and lenders, check your credit report to see what the overall picture looks like, suggests the Home Loan Ave website.
Elapsed Time
The more time between you and a judgment, the better. A very recent judgment will weigh more heavily on your credit report than an old one. Thus, if you dream of owning a home but aren't in a hurry to buy currently, it may be in your best interest to wait. Waiting also gives you time to polish the rest of your credit report by paying down debts and having mistakes removed from your report.
Payment History
If the amount owed to the plaintiff in the judgment is still unpaid, focus on paying that off. A paid-off judgment doesn't look quite as bad as an unpaid one, because a paid-off judgment tells a potential mortgage lender that while you had problems paying the debt, you ultimately managed to do so.
Process
Depending on your credit report and the time between you and your judgment, you may find that many banks and mortgage lenders are willing to consider you as a borrower. However, expect more scrutiny than a lender with no judgment on his credit. You may be required to submit detailed documentation about your earnings and bills, as well as written explanations of the reason for the judgment. This written explanation is your way to tell a potential mortgage lender why, despite the judgment, it should consider you creditworthy.
Expectations
Go into the process of obtaining a mortgage with a judgment on your credit well informed about what you can expect. This includes higher set-up or origination fees and higher interests. Also, be prepared for let-downs. At the same time, know that the fact that one bank denies you doesn't mean that getting a mortgage is impossible. Mortgages insured by the Federal Housing Administration look more leniently than most banks at people with judgments on their credits.