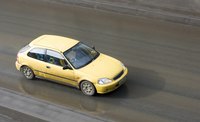 The terms of car insurance policies generally differ extensively depending on a number of factors, including decisions by the insurance company, state laws, and the extent of coverage the policyholder opts to receive. Depending on how the policy is written, an uninsured driver may or may not be allowed to drive a friend's car.
Types
According to CarsDirect.com, auto insurance has two main types of coverage -- liability and comprehensive. Most states require that drivers be insured with at least liability coverage. This coverage is generally assigned to one or more drivers, covering them even if they are driving another vehicle. By contrast, comprehensive insurance is linked to a specific vehicle. If a friend's vehicle had comprehensive insurance, an uninsured driver might be allowed to drive it.
Considerations
The nature of comprehensive coverage will vary between policies and will affect what other drivers are covered. While some insurance carriers will cover a driver not named in the policy, the coverage may be limited, meaning the cost of an accident would be more expensive. Some insurance companies will not cover a driver who is not specifically named in the policy.
Warning
You can definitely not drive your friend's car if you happen to live in the same household as he does and are not named as living at that address. During the process of writing the policy linked to the vehicle, the insurance company will ask who else lives in the household and can be expected to drive the car on a regular basis. If the insurance company believes that incorrect information was provided, the uninsured driver may not be covered at all.
State Laws
Another factor that affects the answer to the question is state laws. In some states, all drivers are required to hold some form of auto insurance. A driver may not be eligible to operate a vehicle, even one with extensive comprehensive coverage, if he does not have personal insurance. Therefore, driving a friend's vehicle would be against the law.
Effects
According to MSN, it may not be wise to allow a friend to drive your car if he is un- or under-insured. If he gets in an accident in your vehicle, you will still have to file the claim with your insurance company and your insurance premiums will rise as a result. Additionally, if your friend lacks insurance and the damage he causes exceeds your own coverage, you can be sued by the injured party.