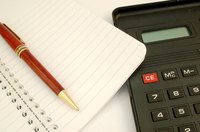 Split dollar life insurance is a way to purchase life insurance so that the cost is reduced for the person seeking to purchase a life insurance policy. Often, the premium payments are split, as well as the death benefit proceeds and sometimes the cash value of the policy, if any. The typical arrangement is where an individual will split the cost of insurance with a business (i.e., his employer).
Types
There are a couple of ways to arrange a split dollar life insurance arrangement. An insured individual can split the cost of the policy between himself and a business. Or, the individual can split the cost of the insurance policy between himself and another individual.
Benefits
Regardless of the arrangement, the end-goal is the same: The individual buying insurance splits the cost of insurance to obtain coverage for a lower dollar amount than he would have paid had he purchased the policy himself. The ultimate cost of a policy can be reduced if the policy size is large enough and the policy is banded. Banded rates allow two people, or several people, or businesses to purchase large face amounts of insurance at reduced rates.
Tax Implications
If the individual is receiving bonus money to help pay for the cost of the insurance (the premiums are split between a business and a key employee), then the bonus money received by the employee is considered to be income and is subject to income taxes.
Drawbacks
These arrangements have one major drawback: More than one person or entity owns the policy. Because of this, if there is a dispute about how to use the cash values or over the payment of premiums, the entire policy could be placed in jeopardy.
Considerations
Before entering a split-dollar arrangement, make sure that you trust the other parties that you are entering into the arrangement with. Split dollar life insurance can lower the cost of insurance you want to buy, but it is also arrangement that requires careful planning to make sure that it works the way that you would like it to.