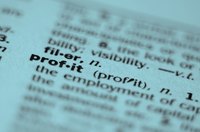 A financial income statement, also known as statement of profit and loss (P&L), is one of four accounting reports that a corporation generally issues. It indicates a firm's revenues and expenses during a period. A company's top leadership evaluates P&L data to ensure that sales and expense levels are adequate.
Definition
A statement of income provides insight into a corporation's sales and expense amounts, and how they affect liquidity levels in the short term. A company usually prepares monthly income statements to assess business performance. U.S. generally accepted accounting principles (GAAP) and international financial reporting standards (IFRS) require a firm to issue a complete set of financial reports when filing regulatory data. This set includes balance sheet, P&L, statement of cash flows and statement of retained earnings.
Significance
A statement of income serves as a pivotal tool in corporate financial reporting. It allows an investor or a firm's senior managers to evaluate profitability levels such as profit margin, or net income over sales, and gross margin, or sales minus cost of goods sold over sales. A certified public accountant (CPA) who audits a firm's accounting records also uses P&L data to appraise the entity's "going concern," or ability to stay in business in the near-term.
Time Frame
A company can prepare an income statement at a given point in time or on a random basis. To illustrate, a firm's leadership may review corporate revenues and expenses in order to gauge profit margin levels before engaging in a merger and acquisition, or M&A, transaction. Alternatively, the Securities and Exchange Commission (SEC) can request interim, or temporary, financial statements of income from a corporation's accounting department in order to review securities transactions.
Revenue Analysis
Revenue analysis is a business practice that helps a firm's department heads evaluate trends in sales, and how those trends affect corporate profitability. A finance manager analyzes revenues by region, segment, business unit or major customer, and she compares historical versus current data in order to detect nonperforming segments. She also reviews internal controls in revenue-producing sections, such as sales and treasury departments, and she ensures that those controls are adequate, effective and set in conformity to GAAS.
Expense Evaluation
Evaluating expenses is an important financial analysis practice because it instructs on a firm's loss management and prevention systems. Except costs of goods sold, or costs of materials, all other corporate expenses depend on internal factors. Simply put, corporate suppliers and lenders set materials prices and interest rates on loans, but top management controls internal expenses such as salaries or rent. Accordingly, senior leaders usually focus on nonperforming areas and reduce costs in those areas.