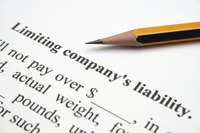 A limited liability company is not a corporation, though it combines some of the elements from a corporation and a partnership. It provides limited liability to the business owners and partners of the company, based on the state in which the LLC was filed. LLCs can buy life insurance for its partners, but it cannot deduct the payments as a business expense.
Buy-Sell Agreements
The reason an LLC would buy life insurance is to protect the business in the event of a partner's death. Under a simple buy-sell agreement, this type of life insurance funds the buyout of a deceased partner's share in the company by the remaining partners. This planning usually occurs at the company's formation. A predetermined agreement defines the disposition of each partner's interest in the company upon death or other cataclysmic event.
Cross-Purchase and Redemption Agreements
Two basic types of agreements are funded by an LLC buying life insurance for its partners. A cross-purchase agreement allows the company's remaining owners to buy and split the deceased partner's share funded by the life insurance. Or the business itself, using the life insurance proceeds, can utilize a redemption agreement and to buy back the deceased partner's share.
Forming an ILLC
To avoid tax and interest complications in cross-purchase and redemption agreements funded by life insurance policies, some companies form an Insurance Limited Liability Company. This allows the ILLC to own the policies, requiring only one policy per partner instead of each partner having to hold a separate life insurance policy on the other partners. This can even out the costs for insurance based on a partner's age or provide additional protection against creditors upon the death of a partner.
Tax Concerns
While an LLC can buy life insurance for partners, there's more to consider than just paying the premiums. IRS tax rules define how an LLC must treat these expenses when filing taxes. In most cases, the policies are nondeductible expenses to the company and must be included in the company's profit on the tax return. Policy payments can also be treated as bonus compensation or can be paid from the owner's retained earnings withdrawals, which goes on the owner's tax returns as income.
Other Considerations
Before buying life insurance policies for partners of the LLC, ensure each partner fully understands the reasons behind the need for the policies. Life insurance policies cannot be taken out on rank and file employees of the LLC. By forming an ILLC, each partner can contribute the cash flow to the separate company needed to fund the individual policies. An ILLC can also eliminate some of the issues that can arise when handling a deceased owner's estate.