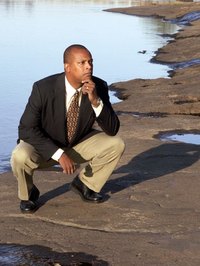 Fashion for men is not as straightforward as many may think. The well-dressed man should follow certain fashion rules to ensure he presents a proper image. The old saying, "Clothes make the man" is still valid in today's dress-down world. Two items of men's fashion that are often confused or worn inappropriately are the sportcoat and the blazer.
Menswear History
For decades, the suit was the apparel of choice for almost any occasion. With its matching jacket and pants, the suit could be seen at the office, at parties, at dinner, virtually everywhere. By the 1920s, the odd jacket, a coat without matching pants, began to make an appearance on the fashion scene. The navy blue nautical blazer with brass buttons was paired with white pants for casual summer wear. British cricket clubs of the 1930s adopted striped blazers with team crests and/or colors. Blazers also came in bright colors making them fashionable for weekend wear. The sportcoat, also a coat without matching pants, became a more conservative form of the odd jacket in the 1950s and onwards.

The Modern Blazer
Today's blazer may be identified by its solid bold color in any hue. The blazer always has metal buttons--whether gold, silver or brass. A blazer may be dressed up with a pair of dress pants or dressed down with a pair of khakis or jeans. Blazers come in single-, double- or triple-button fronts. In the back, the blazer may be ventless or sport a single or double vent to prevent wrinkling. A ventless blazer should be removed by the wearer before sitting down to avoid unsightly creasing.
The Sportcoat or Jacket
The sportcoat was developed for relaxed wear at the private club or at a tennis match. Unlike the suit jacket or blazer, the early sportcoat was made of weaves or patterns such as plaids and rarely of a solid color. Today's sportcoat may best be distinguished from the blazer by the buttons and conservative coloring. The blazer has metal buttons and solid, bold colors while the sportcoat has wooden or plastic buttons and is less flashy.
Fabric
Sportcoats come in several weights of material depending upon the time of year they will be worn. There are winter, summer or ten-month sportcoats. The winter coat is made from a heavier wool than the ten-month jacket but both weights come in patterns such as glenplaid, checks and houndstooth. The summer sportcoat is usually made of a fine wool blended with linen, silk or nylon. Blazers can come in denim or breathable cotton in summer and wool in winter.
Fashion Do's and Don'ts
For a formal occasion, a suit or tuxedo should be worn. If a gathering specifies "black tie," a blazer or sportcoat should not replace the dress suit or tux. Many offices have embraced an informal dress code. Blazers, sportcoats and a finely knit sweater are now appropriate attire at work.