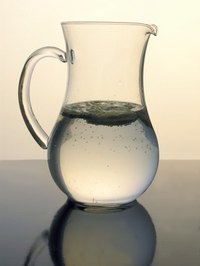 The Brita Products Company, based in Oakland, Calif., makes "point-of-use" water filtration systems designed to improve the quality and taste of tap water via filtering. The company offers a range of products that give consumers an in-home alternative to pricey bottled water or unpleasant tasting tap water.
History
The Brita concept was first developed in Germany in 1966 by Heinz Hankammer, who wanted to optimize tap water simply, by creating a filter to desalinate water. This first filter was called the AquaDeMat and was initially used throughout Europe to produce demineralized water for car batteries.
Hankammer eventually broadened the concept, naming the filter company after his daughter, Brita, and expanding the market to household water. His family helped him develop his small business, producing filters under a pear tree in his garden. As of 2010, Brita remains a family-run company.
Types
Brita offers multiple types of water filters to fit a variety of needs. The most direct is the faucet filtration system, which fits directly over the water faucet and immediately filters water flowing from the tap. These can be switched on and off, so normal tap water can be used when desired to avoid wasting filters and to increase water flow. For those who prefer cold water, Brita also offers water pitchers and dispensers which can be filled at the sink and stored in the refrigerator. Combining these two systems is the refrigerator filter system, which filters the water which flows through an in-refrigerator water system.
Indicators
Newer versions of Brita pitchers, dispensers and faucet filtration systems feature in-system indicators that tell you when to change the filter. The pitchers and dispensers come equipped with electronic filter change indicators. When you replace a filter, simply reset the indicator by pressing down on the button located on top of the pitcher or dispenser. The indicator will begin blinking when it is time for the filter to be changed.
Faucet filtration systems come with a similar device. They are fitted with LED Electronic Filter Life Indicators that tell you when the filter should be changed. All the Brita filter indicators are based on time. For example, a pitcher's indicator will advise you to change the filter after two months of use.
Reminders
If you have an older Brita system, which does not feature some type of in-system indicator, you can also create a free online account on the Brita website and set it to receive e-mail reminders of when to change the filter. Input your filter type, location and desired frequency, and you will receive access to a convenient calendar and scheduled email reminders.
Capacity
If you prefer a more old-fashioned approach, you will need to keep track of how many pitchers you are using and the time frames for changing the filters. Brita pitcher filters should be replaced every 40 gallons, or approximately every two months for the average family, according to Brita. Faucet filters should be replaced every 100 gallons, or about every four months.
Using these guidelines, calculate and keep track of your water usage on a calendar.