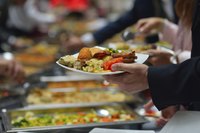 Measuring a consumer's satisfaction with a product or service is an inexact science. Satisfaction can only be measured by the actions of buyers when given options. Attempts to measure satisfaction are theoretically sound but difficult to quantify in the real world. Economists use the concepts of utility and marginal utility to explain consumer behavior.
How Many Units Do You Want
Utility is the satisfaction a person gets from consuming a product or service. The greater the utility, the greater the satisfaction. Each additional unit consumed typically adds to the total utility but not by the same amount. The change in the total utility brought about by consuming one more unit is the marginal utility. Suppose you visit a buffet restaurant. The first plate of food gives you a great deal of satisfaction -- the marginal utility is high. If you go back for seconds, that too will be satisfying, but the satisfaction is less because you are not as hungry. If you continue to return to the buffet, each successive trip yields less marginal utility, until finally you become uncomfortably full and even sick -- at that point, the marginal utility has become negative.
Which Option Should You Select
All consumers make choices based on marginal utility and when given choices -- shall you go bowling or to the movies, for example -- you will select the option that will give the higher satisfaction. If you have been to the movies for the past three weekends, the marginal utility of bowling might be higher than the marginal utility of seeing another movie, and that is where you will go assuming price is not a factor. Understanding marginal utility is an important first step in understanding consumer behavior.