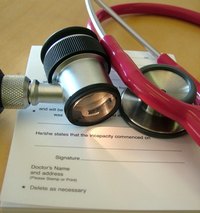 Unexplained recurring abdominal pain is a common problem faced within the pediatric community. There are hundreds of possible causes, and diagnosis is often difficult. One possible explanation is appendiceal colic. This can be diagnosed by a physician after several examinations and tests are performed.
Appendiceal Colic
Some physicians debate if appendicial colic is indeed a real condition. It is used to term recurring abdominal pain in the lower right quadrant. This can result from a distension of the appendix by foreign materials. It is important, however, not to mistake appendiceal colic for more dangerous conditions such as appendicitis.
Diagnosis
Children must first meet three criteria before they are diagnosed with appendiceal colic. They must have a history of abdominal pain and exhibit appendiceal tenderness when examined. The doctor will then perform a radiographic study. If anything appears abnormal, and the child meets the two other criteria, a diagnosis of appendiceal colic can be made.
Treatment
If diagnosed with appendiceal colic, the patient will be presented with an elective appendectomy. Since appendiceal colic is a condition that exists in somewhat of a gray area, there is no guarantee that the appendectomy will eradicate the abdominal pains. In a small percentage of patients who undergo the appendectomy, their abdominal pains return several months later.
Causes
One of the most common causes of appendiceal colic is engorgement by foreign matter, such as fecal matter. Following colonoscopic examinations, individuals can experience appendiceal colic. In the most severe cases appendiceal colic can occur as a result of parasitic infections and inflammation.

Appendicitis
It is important not to mistake appendiceal colic for a more deadly condition, appendicitis. With appendicitis the individual will still experience abdominal pain and tenderness. He will also experience a loss of appetite, back pain, and nausea and vomiting. When any of these symptoms are experienced it is best to get medical attention sooner rather than later.