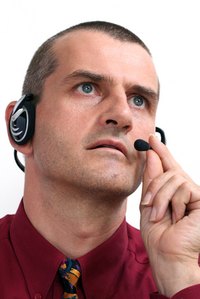 Products and services lie at the heart of business activities. And while sales make it possible for businesses to profit and grow, customer satisfaction becomes the ultimate measure of how well a business does. The quality of good customer service lies in the importance of maintaining a good customer relationship after the sales transaction takes place.
Customer Relationships
Customer relationships develop with each interaction had between the business and the customer. Negative interactions can work towards defining this relationship even moreso than positive interactions depending on the issue involved. According to the Customer Service Training Center, representatives attempt to provide customers with a means of support when something goes wrong with a product or service. The quality of good customer service lets the customer know he's valued and that the company cares when a product or service fails to meet the customer's expectations or needs.
Customer Retention
According to the Forum Corporation, the most common reason why customers stop doing business with a company stems from poor customer service experiences. As the costs of products and services goes up, retaining a customer's business requires companies to offer up value that may or may not be directly related to the product or service offered. Quality customer service addresses a customer concern as a person-to-person interaction in which respect and care becomes an added value in doing business with a particular company.
Quality Service
Quality service provides benefits to the customer as well as to the reputation of the company. According to the Customer Service Training Center, customer complaints arise in response to dissatisfaction with a product, which can become an opportunity for a company to improve upon its offerings when handled by a quality-oriented service representative. Complaint experiences provide valuable information that can be used to improve upon a product offering or at the very least enable businesses to develop an efficient solution-based method for handling known problems.
Word-of-Mouth
Word-of-mouth advertising can drive a business' success as well as run it out of business. According to the Customer Service Training Center, the quality of good customer service can create an exponential effect when customers relay their experiences with friends and family. When people pay money for a product or service, they hold certain expectations as far as product quality and a company's willingness to stand behind their products. Quality customer service meets these expectations in a way that adds integrity to a company's reputation.
Service-Profit Chain
The "Service-Profit Chain" –a business model developed by Harvard University- describes the relationship between employees, customers and shareholders and the importance of investing in employee training, development and incentives. According to the Customer Service Training Center, a motivated, well-trained customer service representative attributes more value to their role within the company, which transfers into the quality of his work. As a result, customers come to rely on the service provided by a particular company, which can develop into additional sales and loyal customers. The quality of good customer service relies on a business' willingness to invest in employees in terms training and incentives.