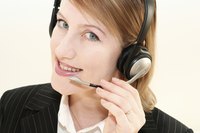 The customer-centric principle bases itself on the idea that the firm's success depends on its customers. The firm, therefore, has to make the customers its focus in all stages of its interaction with them. The firm hopes that the customers will appreciate the effort and show loyalty to the firm's products.
Significance
A customer-centric firm hopes to achieve higher sales, profitability and new-product success because of their focus on customers. The firm also saves on costs for agent commissions and wins business over its competitors. According to studies quoted in the book "Designing the Customer Centric Organization," existing loyal customers are the most profitable group of customers. Rather than spending its resources on capturing new customers, a firm should instead use its resources on maintaining the loyalty of current customers.
Features
Becoming customer centric does not just involve customer service. A customer-centric firm detects the needs of its customers and uses its resources accordingly, while building relationships with them. All the business functions of the firm, including those that do not directly make contact with the customers, perform their roles with the customers in mind.
Identification
A customer-centric firm identifies the needs of its customers by dividing them into segments with common characteristics and determining the appropriate level of attention for them. A firm can classify its customers based on various factors, such as size, buying purpose, nature of products purchased, revenue, potential for growth, geographic location and level of specialization required. A firm can collect the data using surveys and keeping data from all customer interactions, including sales, customer service, complaints, returns and third-party vendors.
Implementation
A customer-centric firm arranges itself around the customers. Its strategy, structure, processes, reward systems and people have to aim to maximize customer satisfaction. For example, the firm focuses on creating products that the existing customers need, as opposed to finding customers for its products. The firm rewards the managers who build customer relationships, rather than those who manage deadlines. The employees focus on customer retention, as opposed to reaching a certain share of the market.
Considerations
A firm must not over-customize its products to match customer requests to the point where profit suffers. For example, Japanese software companies often create many different versions of software products for different customers. As a result, they fail to reach economies of scale and do not have enough resources for international expansion. A firm should also not focus too much on its best customers when considering a new technology. Even if customers do not show interest in a new technology, a firm should explore its possibilities to anticipate any changes in customer preferences.