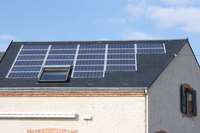 Many people have gone "off-grid," either completely or partially, by installing solar panels on their houses to avoid ever changing utility bills. While this can mean a stream of electricity at a stable rate, the up-front costs of such installations can be large and take several years to pay off. Still, these solar installations can also increase the resale value of your home.
Considerations
A home electric bill will always increase over time, and some estimates state inflation alone doubles electric costs every 12 to 15 years. Most who install smaller solar electric systems usually still pay a small service charge to their utility so that when the system isn't producing electricity they have a back-up power source. The goal of these solar systems is to reduce the utility company electric bill. Those systems that produce more power than needed cause the utility meter to spin backwards, giving the homeowner utility bill credit.
Utility Costs
According to the US Department of Energy, a typical American home uses about 11,000 kWh a year, costing an average of $1,034 annually at the average residential rate of 9.4 cents per kWh. But there are other costs. Relying on the local utilities to supply electricity means a homeowner is not only susceptible to infrastructure problems locally but also susceptible to region-wide blackouts that the local utility has no control over. A 2005 study conducted by Lawrence Berkeley National Laboratory estimates that "electric power outages and blackouts cost the US about $80 billion annually."
Solar Costs
If a solar system takes five years to pay for, you would have a stable electric bill for the next 20 years and lower and your carbon footprint. A small, 3 kW system to supplement the utility hook-up – but not run the entire house -- costs about $25,000. To replace a $150-a-month electric bill, the cost -- after rebates and tax credits -- would be $30,000 to $35,000.
Comparisons
The lifespan of current solar panels is 30 to 40 years, and most manufacturer warranties of solar panels last as long as 25 years. According to On Grid Solar, "A system analysis over 25 years, including all costs, electric bill savings, incentives, maintenance expenses, inverter replacement costs and real system performance (including wire loss, dust and dirt, module mismatch, temperature effects, inverter efficiency, shading, orientation, location, etc), inflation, taxes, etc., will result in a time line with an up-front cost and 25 years of savings or expense."
Home Value
Investing is a solar electric system increases a home's value by decreasing utility costs and increasing energy efficiency. A home's value can be increased by $20,000 for every $1,000 reduction in annual energy costs, adding equity to the home. Despite up-front costs, the larger the power output of the solar system, the more the home's value increases.