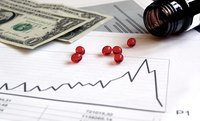 Inflationary depression takes place when the central bank tries to stimulate the economy by producing money beyond the usual rate. This is an effort of encouraging people to have a more positive outlook on debt. However, this is also the point where the public, along with companies, has lost their confidence in the economy's future growth and progress. This leads to the public refusal to invest or transact using the country's monetary currency.
Inflation
Inflation refers to the increase of general prices in the market in terms of goods and services. This is the economy's reaction to the increase of the amount of money put into circulation. Hyperinflation occurs when there is the extreme inflation and rapid rise of prices for goods and services taking place. This condition results in the country's currency losing its value and transaction power. In this situation, people will then refuse to sell and buy using the currency. The worst end- -result of hyperinflation--is depression.
Depression
According to an article written by David Chapman for GoldSeek.com, depression is a severe case of recession. Recession, in turn, is defined as the decline of Gross National Product (GNP) by more than 10 percent in two succeeding quarters. A depression is a period of drastic and severe decline of the economy. This can occur in a national and international economy. This is also a period where there is a decline in business activities as well as unemployment.
Cause
According to an article on the website ShadowStats.com, the reason for inflationary depression is the overproduction of fiat currencies. A currency's value depends on the asset of the country, such as gold. Fiat currencies do not have the equivalent asset to back it up. When the central bank cannot obtain enough money to support its economic system through regular means, such as taxation, the bank prints and distributes more money in its circulation.
History
In the 1920s, Germany experienced hyperinflationary depression. This was due to the complete collapse of the consumers' purchasing power that resulted in the creation of a new currency. When Germany lost the First World War, it experienced a drastic decline in its economy because it provided financial compensation to victorious countries. Hungary also shared the same fate after World War II as well as the former Yugoslavia in the early 1990s.
Effects
A hyperinflationary depression can have tremendous negative effects on people and their society. This causes business and economic turmoil which greatly disrupts many lives. This economic depression causes emotional stress that may lead to public unrest and unwelcome political restructuring. People may question and challenge the leadership and political system. When people lose trust and confidence, the balance and order in the society are threatened.
Control
Inflation starts when the country has too much demand of goods and services. Thus, decreasing and controlling measures on this rise in such demands must be implemented. Governments must implement fiscal policies to combat inflation. Such policies can include lowering government expenses and annual borrowing amounts for government sectors, as well as increasing direct taxes. Monetary policies can also control inflation. Increasing interest rates discourages borrowing by companies and households and promotes savings.