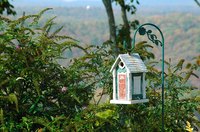 Over time, many different species of birds have adapted to artificial shelters or birdhouses provided by humans. These are wild birds that used to build their own nests or were inclined to take over the nest of more capable avian architects. The number of different birdhouse designs is limited only by the imagination of the builder. If you are looking for a fun and profitable hobby, build birdhouses.
Everyone one has different taste.
If enjoy woodworking and craft projects, consider making extra money by selling your creations. A birdhouse business can be started from your home with a minimal investment. Decorative bird houses, bird feeders and ornaments are easily sold at farmers markets or craft fairs. Choose the type of bird house you wish to build based on the species of birds you wish to attract. Like "fussy" tenants, birds have distinct preferences and requirements. Study the type of birds that frequent your locale or the area where you plan to sell your creations. Build houses to present an inviting habitat for the requirements of native birds.

Free Materials
Look for free materials. Wooden pallets, used to ship appliances and heavy equipment, are often free for the taking. Companies are happy to have you haul them away so they do not have to pay for disposal. Many construction sites are happy to give away scrap wood and materials left from the job. (Always ask permission before removing materials.) Pallets are constructed from pine, oak or spruce boards that happily find a "second life" when used for birdhouse construction. Old wooden cigar boxes, metal cans and gourds can be also be utilized. The forest is full of fallen trees that offer a fine supply of materials adaptive to birdhouse building.
Design & Construction
Conduct research on the Internet or at the library for free birdhouse construction plans. Start out with a simple design, then try more complicated projects as you gain experience. Sand all rough edges and make precise cuts to produce quality birdhouses. Add weatherproof paint to preserve your creations or opt for a rustic, natural finish.
Selling Your Birdhouses
Birdhouse builders can create a nice second income selling their creations at flea markets, garage sales or craft sales. Birdhouses can also be sold wholesale to garden centers and landscape design outlets.
Revenue From Birdhouse Sales
Using free, found and recycled materials, birdhouses can be constructed with little cost. Keep accurate records of material costs and sales. Once you have established your birdhouse business, you can expand by adding bird feeders, bird baths, bird seed and ornaments.