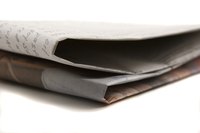 All business communication uses channels to send and receive messages. Common channels used are business meetings, one-on-one interviews and sending emails. When a business chooses to use a channel that sends a message to the general public, it is considered mass communication. Businesses use mass communication for different reasons, depending on the messages being sent.
Definition
According to businessdictionary.com, mass communication is "non-personal channels of broadcasting a message to the general public, principally the national newspapers, radio, and television." Mass communication sends a general message to the public to inform, direct or persuade the masses of a specific message.
Purpose
The purpose of mass communication in business is to send a company-wide message, a public message or a message to other businesses. Company-wide messages are commonly seen in the form of a memo, mass email or mass voicemail. This is seen in larger corporations that have a national or global presence. A public mass communication in business is intended for the purpose of marketing, creating a positive public image or informing the public of the company's goals. Mass communication to other businesses is intended to persuade them to partner or use the company's products or services.
Types
Mass communication in business manifests in different ways. Marketing and advertising are used to persuade and promote products and services to the general public. This type of mass communication is seen in magazines, billboards and TV advertising. Public relations are another type of mass business communication used to maintain the company's image. Press releases and press conferences are used to inform the public of changes or to clarify facts.
Approach
Mass communication must take into consideration the audience targeted by the message. Mass messages in business need to be free of offensive language, slants towards a particular religion, political belief or personal value system and avoid stereotyping. Mass communication is intended to reach a large amount of people, so the messages should remain general and easily understood by a wide range of people from all walks of life and backgrounds.
Considerations
Mass communication in business is a powerful tool that should be used to better society. Mass communication should avoid the use of manipulation or unethical ways of persuasion, such as subliminal messages. A company should hire an external firm to perform a communication analysis of the organization to identify their mass communications effectiveness.