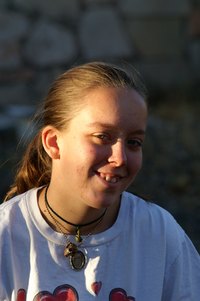 Acne and cancer are two very different conditions. Cancer is an invasive, life-threatening disease, while acne is a chronic skin condition. Research, however, has linked the two in a number of ways. According to a study titled "Spotting the onset of puberty–the secret's in the skin", conducted by scientists at the Skin Research Center at the University of Leeds, the bacteria that causes acne, known as propionibacteria, also reduces the risk of cancer by strengthening the defenses of the immune system.
Acne
Acne is a chronic skin condition that usually affects the face, back and chest. It is very common, infecting mostly teenagers and young adults. According to the American Academy of Dermatology, approximately 40 to 50 million Americans experience acne. Acne is caused by the overproduction of oily sebum in the skin, which blocks the pores and creates inflamed spots. These are often black, yellowish or small red bumps. In more extreme cases, large, puss-filled cysts can develop which are often sore and can lead to scarring. Exactly what causes acne is unknown, although heredity, hormones and stress are believed to be triggering factors.
Cancer
Cancer is a disease caused by the abnormal growth of cells in the body. The term cancer describes the malignant tumors that develop from the uncontrolled reproduction of cells. According to Cancer Research UK, there are more than two hundred different types of cancer, affecting many parts of the body. If left untreated, cancer can spread and destroy other organs and tissues in the body. There are some common symptoms of cancer including lumps in the body, moles and bleeding. Recent estimates by the American Cancer Society state that about one in eight women develop breast cancer.
Acne as a Symptom of Cancer
Acne has been recognized as a symptom of some cancers. According to the Cancer Treatment Centers of America website, adrenal cancer may lead to Cushing's syndrome, a hormonal disorder associated with severe acne. Though adrenal cancer is considered rare, DermNet NZ links Cushing's syndrome to both benign and malignant adrenal tumors.
Acne as a Cause of Cancer
Oil acne is a skin condition caused by the overexposure to petroleum and its derivatives. It is characterized by blisters and small spots heavily exposed to oil. According to the Canadian Centre for Occupational Health and Safety, if not treated properly, oil acne can develop into skin cancer. It recommends that people with oil acne should consult a physician. However, acne is not commonly cited as a cause of cancer.
Cancer Treatment Side Effects
The American Cancer Society lists acne as a "possible side effect" of a number of immunotherapy drugs. It also states that androgens, which combat cancer by controlling the hormone composition in the cancer cell, may increase acne within women. According to Macmillan, a leading charity in the UK, an acne-like rash is a common side effect of some biological therapies, such as Panitumumab (also known as Vectibix), used to treat bowel cancer. Acne as a side-effect has also been linked to steroid treatments.