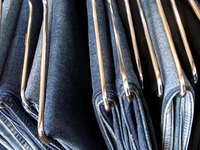 Skinny and straight jeans have been steadfast fashion staples for over 50 years, and their roots stretch back even farther. When compared to the multitude of jean styles available today, skinny and straight jeans are similar to one another. Still, they are markedly different in a few key ways.
Skinny Jeans
Skinny jeans, for men or for women, are called skinny because they remain tight all the way down to the ankle. This is the distinguishing element which sets them apart from straight jeans. The ankle of skinny jeans is tapered and the fabric hugs your calf as well as your thighs--and all the way up. Of course, some models of skinny jeans are tighter than others, but all fit snugly. Some brands go so far as to name some models 'super skinny'. Often skinny jeans contain a small percentage of elastic material to allow a tighter, more comfortable fit. This is especially true in women's skinny jeans.
Straight Jeans
Straight jeans start where skinny jeans left off. Their fit is usually as tight as the loosest pair of skinny jeans, and while the thigh portion of the jean fits snugly, the jeans maintain a straight shape from the knee down. They do not taper at the ankle like skinny jeans. Save for a few women's models, straight jeans do not contain any elastic material.
History
Skinny and straight jeans share the same heritage which dates to the late 19th century, although straight jeans made their appearance some time earlier than skinny. Denim fabric and jean fabric were originally names of two distinct fabrics that date back to 16th century Genoa and 16th century France, respectively. Modern skinny and straight jeans have their roots in Levi Strauss's company in the late 19th century. Levi Strauss made a straight legged, denim pant that became the standard and signature model for the company and served as a model for competitors. Taking the straight leg concept even further, the skinny denim pant style came to the market in the 1950's. These models, along with all denim pants, took the name "jeans" in the 1960's.
Fashion
Hardly a fashion statement at first, the original straight denim jean was designed to be tough for the manual workforce, but they gained in popularity soon after their inception. By the 1950's, Levi Strauss' company was selling jeans nationally and everybody had access to purchase a pair. In the same decade and the one following, fashion and film icons like James Dean and Elvis Presley popularized the slim fitting straight jeans.
At the same time, female icons like Marilyn Monroe popularized skinny jeans. In the 60's and 70's, the rebel look that started with the slim straight jean progressed, and the counter-culture and rock n roll culture took to skinny jeans. The Clash, the Ramones and the Rolling Stones are examples. The 80's metal band scene continued the skinny jean history, while the straight jean was seen as a more modest jean that was not itching to make any fashion statements. While both jeans maintained a fan base through the 90's, their popularity waned in favor of baggy jeans and boot-cut jeans. By 2010, however, the skinny and straight jeans came back in vogue among hip crowds.
Availability
Jeans are a fashionable item, which means high fashion has its versions of skinny and straight jeans that sell for up to $400. Of course, skinny jeans have strong roots in the not-so-couture crowd and many quality jeans are priced as such, in the budget range between $40 and $60. Most boutique and designer skinny jeans fall in the $80 to $200 range. Straight jeans are more common, and true to their workforce roots, are widely available at budget prices between $20 and $60. Boutique and designer straight jeans fall in the $80 to $200 dollar range as well, as of July 2010.