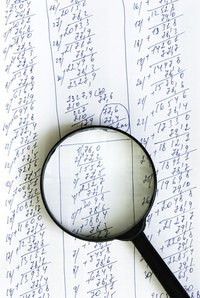 The Sarbanes-Oxley Act is a financial regulation bill passed in 2002 after major accounting scandals at companies including Enron and Tyco. This act requires much more documentation from public companies and also added restrictions on the work that accounting firms perform. Overall, the Sarbanes-Oxley Act increases the amount of jobs available in the accounting field.
Nonprofits
The Sarbanes-Oxley Act affects careers in nonprofit accounting. Nonprofits use public companies as examples when establishing their financial control systems, since management considers these controls to be best business practices. According to Board Source, an organization that provides advice to improve the governance of nonprofits, although nonprofits are not legally required to provide the same information in financial reports as public companies are, nonprofits still have responsibilities to donors, clients and the public. Nonprofits should use the disclosure requirements in the Sarbanes-Oxley Act as a guideline. Additional disclosure requirements increase the amount of accountants that nonprofit companies need to hire.
Audit Firm Rotation
Every five years, an audit firm must rotate the lead and reviewing partner for the audit. According to Board Source, the simplest method for a company to ensure that this task is carried out is to change the firm which performs the audit every five years. Firms that follow this practice will be switching between accounting firms more often, which may reduce the amount of business available to established firms and provide more business to less well known accounting firms.
Internal Audit
The Sarbanes-Oxley Act increases the overall cost of audit services to a public company. A company not only hires additional external auditors to evaluate its financial statements, it must hire additional internal staff to check the accuracy of its existing records. According to the New York State CPA Society, costs related to internal audit work increased three times as much as the costs of performing the external audit after the passage of the act.
Writing
Internal control documentation is a major additional expense that Sarbanes-Oxley requires. The act requires accountants to report on the effectiveness of a public company's internal controls. According to the New York State CPA Society, this means that accountants need to write manuals and other documents so other financial professionals can understand the company's internal control system. Accountants who possess strong writing skills are needed to write these documents.
Consulting and Teaching
Smaller firms do not always have the accounting staff available to properly perform the Sarbanes-Oxley documentation process. According to the Government Accounting Office, 128 of 158 smaller public companies hired an external accounting firm or consultant to assist with the implementation of Sarbanes-Oxley requirements. Many public companies are purchasing additional training for their accounting staff, which provides additional work for accountants who teach in the field.