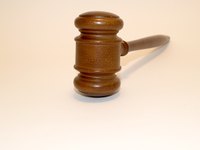 When looking to buy or sell anything, from baseball cards to a house, it is important to know what the market value of the property is, as well as its auction value, and to realize how very different these values can be. Understanding the range of financial gain or loss possible in your transaction will allow you to make a more informed decision and maybe even come out on top.
Identification
The market value of property is the amount of money that the property should sell for in the current market. For an exchange involving proper market value to take place, there must be a willing buyer and a willing seller who are in agreement as to the value of the item. However, property does not always sell for market value. The auction value of property is the actual price the item receives in an open, bidding market.
Significance
Understanding market value and auction value can mean the difference between making a smart purchase or sale and a bad one. For example, you own a home valued at $500,000---the market value---and you are hoping to sell your home and make a profit. At auction, however, the home only sells for $350,000---the auction value, based on the given economy and what your buyer is willing to pay. This is a smart transaction for the buyer but not great for the seller, who then loses money. When possible, make sure not to sell any piece of property when the market value is higher than the auction value or actual price you are going to receive. The reverse holds true for the buyer. The best time to buy an item is when market value is high, but the price you pay is much lower than its actual value.
Effects
The effects of market value vs. auction value can be tremendous on the individual, not to mention the economy. The theory of supply and demand says that the more people want an item, the higher the price the item can bring, thus raising its market value. In this situation, a company might begin producing large numbers of the item, hoping it continues to sell. However, if the demand for the product decreases while there are still large quantities available, the auction value, or how much the item will actually bring in monetarily, will decrease as well.
Considerations
When considering a sale, you need to figure out how much the item in question is worth to you. Much of the value placed on an item comes not from scientific research, but from emotional desire or need for the item. If you own a home and you are thinking it might be time to sell, rate the market value of your home against the auction value. If you will lose a large amount of money, you might want to rethink the sale. However, if you will save money in the long run by selling the house and living elsewhere, it might be worth it to you to sell now and benefit later. For the buyer of an item, it is important to consider how much you are willing to pay. One man's treasure is another's trash. Perhaps you find a rare toy from your childhood in a store and you have not seen it elsewhere. In this case, the emotional value of purchasing a product that is priced at or above market value might be positive.
Warning and Expert Insight
Make sure when considering a sale to weigh all possible outcomes. Remember that markets for everything go through up and down phases. Just because the auction value of your home is low does not mean that it will be low in five years. Property of all sorts gains and loses value from day to day. It is crucial to be informed on the value of property that you have or that you want, in order to ensure that you are in an educated position to buy or sell.