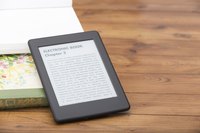 E-books are becoming increasingly popular with the advent of smartphones and tablets. Some businesses have developed them to provide information about goods and services to attract customers. A SWOT analysis can be used to examine the strengths, weaknesses, opportunities and threats of such strategies. Their internal characteristics are discovered through strengths and weaknesses, while external factors are viewed as opportunities and threats. A SWOT analysis of e-books can help you decide whether investing in this electronic form of communication is worthwhile.
Strength Check
Developing an e-book can help a company market its environmental responsibility. Printed books are made of paper manufactured mostly from trees and tree byproducts. They're also expensive to revise. Since an e-book is electronic, consumers are able to easily delete it without wasting resources or having to recycle it. E-books can be revised much more quickly, so they save on publishing and distribution costs, which helps the bottom line. The portability of e-books is another strength as readers, tablets, smartphones and laptops can store several at once. As a result, a company can develop guides that customers can access easily and quickly on its website or social media pages.
Weak Points
One weakness of e-books is device compatibility. Customers may be unable to download some e-books because the technical specifications of their devices won't allow it. Some e-books can be read only on certain kinds of viewers or word-processing programs. A printed book usually does not require add-ons to be read. Additionally, if an e-book is not saved on an external device such as a memory card or flash drive, it may be erased if a device malfunctions. This costs readers time and aggravation as they must find and download it again.
Opportunity Knocks
E-books offer businesses the chance to attract new customers, especially those who rely on technology. Many devices include free applications to help those with hearing and vision issues. Certain businesses may also use e-books as a free method of marketing and advertising. Since e-books can include hyperlinks and embedded videos, companies can market additional goods and services.
Threat Warning
Since e-books are virtual, there is the growing issue of Internet security. If hackers manipulate the contents of a company's e-book, that firm may incur additional costs including public-relations spending and increasing information technology security. There is also the possibility that customers may illegally share or copy the contents of an e-book, leading to a potential loss of revenue.