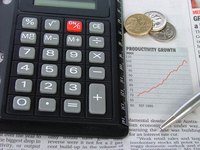 Companies typically issue bonds to raise money through debt: convertible bonds, however, have unique terms and figure into several different business strategies. Typically, businesses will use these bonds to delay certain consequences of selling shares or to manage their levels of equity and debt more closely under the watchful eyes of investors.
Convertible Bonds
A convertible bond is issued like a normal bond and bought by an investor in the normal way. However, convertible bonds come with a built-in option to exchange the bond at specific times for a specific number of shares in the company stock. This allows the investor to exchange the bond when it appears company stock will do well. If the investor holds onto the bond, it will accumulate interest like a normal bond.
Delayed Dilution
One reason companies create such bonds is for the delayed dilution that will occur when the bond is finally sold. Companies try to maintain a certain debt/equity balance for investors and a convertible bond starts out as debt and moves to equity, which can be advantageous when a business wants to create a delayed dilution of equity. Dilution is a term used to describe splitting stock, which lowers stock value per share and may make the business appear weak at crucial times. Therefore, businesses use convertible bonds to delay the dilution to the best time.
Lower Coupon Rate
The conversion factor of a bond makes it very attractive to investors because it is so flexible. Because this increases the value of the bond, companies can sell it for much lower coupon rates. The better the conversion terms, then the lower the coupon rate. This means there is less interest the business will have to pay on the bond as long as it remains a bond.
Delayed Voting Control
When a business sells equity, it is selling ownership to the company, so all investors that hold equity are able to vote on vital business matters (their votes matter according to how much of the company they own). If a business wants more equity, but cannot give up more ownership of the company in its current financial situation, then convertible bonds help delay the spread of voting control, perhaps until important negotiations or takeovers are completed.
Share Management
When investors look at shares, they want to see stock with high value that is increasing at a steady rate. When a company creates more stock by dividing current shares, many investors see this is a sign that the stock is rated too highly and the lower price that results from the dilution is more accurate. This can cause a sell-off from investors and make stock prices fall. To avoid this appearance, companies create convertible bonds that will slip more subtly to stock without alerting too many investors.