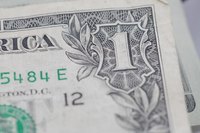 The Dow Jones Industrial Average (DJIA) is an icon of high finance. The Dow's purpose is to serve as a gauge for daily stock market activity. Beyond the stock market, the Dow is a leading indicator for the strength of the U.S. economy. Private individuals and public institutions coordinate decisions based upon the Dow. Identify how the DJIA is actually structured before building your own financial portfolio.
Identification
The Dow Jones Industrial Average is composed of 30 U.S. large capitalization stocks, such as ExxonMobil, General Electric, Microsoft and Wal-Mart. To calculate the Dow, add up the share prices of each of the thirty components and divide that number the Dow's divisor, which is currently 0.132319125. The divisor accounts for stock splits, mergers and acquisitions that have occurred throughout time within the Dow companies. The Wall Street Journal publishes the Dow component stocks, and their divisor, daily.
Features
The Dow is a reference point for the performance of your portfolio of U.S. stocks. On days when the Dow advances by at least 1 percent, your U.S. stocks are likely to be making money. Conversely, your portfolio generally loses value during periods when the Dow declines sharply. Over the long term, growth investors attempt to beat the market, and achieve financial returns that exceed DJIA performance statistics. Failure to beat the market during extended 18-month periods may call for alterations in your strategy. Conservative investors, however, may not be concerned with beating the market, as they are more willing to accept smaller returns for reduced volatility.
Strategy
Technical and fundamental analysts monitor the Dow as a means to execute financial decisions. Technical analysis relies strictly upon statistical price data to identify trends. For example, the Dow may decline toward 10,000 several times during the year, before rebounding towards highs at 11,000. Technicians would then identify Dow 10,000 as a support level, and buy stocks at that point. Alternatively, Dow 11,000 identifies a resistance point, where stocks would then be sold.
Fundamental analysis requires its followers to compare business value to market value. Profit opportunities arise when a corporation's underlying business value exceeds its share, or market price, because shares are likely to increase to match business valuations eventually. With this philosophy, fundamental analysts may take advantage of weak DJIA values to buy cheap stocks.
Considerations
The Dow serves as a leading economic indicator to assist government officials coordinate policy and enforce legislation. For example, Dow declines of at least 20 percent during one year are indicative of a market recession. The U.S. Treasury and Federal Reserve Board may then propose interest rate cuts to improve the economy. Lower interest rates reduce borrowing costs and can encourage businesses to spend and invest money.
Warning
Private investors and government officials cannot overreact to each Dow fluctuation. Private investors who change strategy based upon emotion often incur excessive trading commissions and lose long-term profit opportunities. Meanwhile, government officials risk mass outrage if their legislation appears to bail out or pander to wealthy stock market investors.