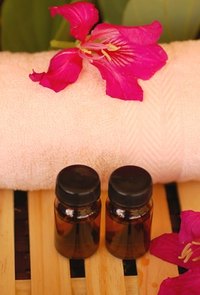 The busy, fast-paced lifestyles that people lead make spa services a welcome break. Spa business owners should develop marketing strategies that speak in a compelling way to target customers to encourage them to consider spa treatments as a "must do" versus a luxury. Owners and operators must build creative marketing concepts and maximize opportunities to get product suppliers to participate in advertising, special events and promotions to increase revenue for the spa and for product suppliers.
Conduct a Competitive Analysis
Identify services, pricing and other attributes offered by competitors. Assess how you can structure your business to capitalize on areas for improvement and voids in customer services. Expand your hours if a competitor is open only during limited hours. Lower prices to drive customers to try your business. Offer lower- or high-end priced products that others don't carry. Carve out a competitive point-of-difference to make your spa preferred.
Identify Strongest Target Customers
Get marketing statistics from the chamber of commerce to analyze the demographic information regarding the average age, income, marital status and more of people in the area. Overall, women tend to be the heaviest user of spa facilities. Spas located in urban and downtown areas might focus on targeting single women as primary targets who would want to visit a spa after work. Businesses located close to shopping malls might lean towards women who are married and homeowners and need a location that is closer to their home for services after work.
Develop Creative Incentives
Partner with nearby beauty and barbershops. Develop partnerships to share in advertising and marketing campaigns. Work with barbershops to offer men a discount on haircuts while their wives or female partners get a spa treatment. Use off-peak hours on weekdays or even Sundays to offer mother and daughter spa treatments. Talk with human resources departments at companies nearby to develop an employee rewards program for a spa treatment.
Incorporate a Loyalty and Referral Program
Customer retention will be a major goal to establish the business in the marketplace. Develop strategies and programs to build a sustainable base of loyal, repeat customers and referrals. Provide discounts and allow customers to earn points towards free products and services. Give extra points for every customer that they refer for a spa visit. Train staff members on the importance of promoting the loyalty and referral programs with every client they serve.
Explore At-Home Services
Today's busy moms and dads might want to come to the spa but not have time to do so. Consider including at-home services. Think about developing fun concepts for husbands and wives, birthday parties and more. At-home services can also provide a means for employees to earn additional income and will make the spa more competitive in the services it provides.
Customer Relationship Management
Develop programs that provide customized attention for patrons and the opportunity to capture important data. Structure a customer relationship management program that includes customers' names, types of treatments they prefer, products and the time of day that is most convenient for services. Use the data and feedback to assess services, products and to develop strategic business-building opportunities.