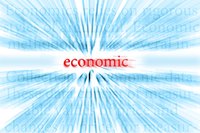 Most students don't know what to expect when they step into their first economics class. A simplistic definition of economics is that it is the study of how resources and wealth are distributed. However, even the best economists disagree about how best to accomplish this task. Knowing the fundamentals of economics helps governments, firms and individuals make rational decisions. These fundamentals are categorized by types and theories.
Types: Microeconomics
Microeconomics studies the relationship between businesses and individuals. The first fundamental assumption of microeconomists is based on the belief that a firm's responsibility is to maximize profit, and the second assumption is that people are inherently self-interested and desire to maximize well-being and satisfaction. Economists use utility graphs to measure the amount of satisfaction derived from a specific choice.
Types: Macroeconomics
Macroeconomics, a field developed in the 1930s by John Maynard Keynes, analyzes how the broad market forces and governments influence the health of the economy. Measurements of economic health, like Gross Domestic Product or GDP, unemployment and inflation, are all studied by macroeconomists. Actions by a country's central bank are also analyzed. The United States' central bank is the Federal Reserve. This institution is responsible for setting interest rates and controlling the money supply.
Theories: Laissez-Faire
Economists have different theories as to how to keep the economy running most efficiently. Some economists believe the market functions best with little or no government intervention, a theory known as "laissez-faire." The 18th-century economist Adam Smith first explained this concept of no government intervention in his book "Wealth of Nations." Several Nobel Prize-winning economists agree with this fundamental notion. Early 20th-century economist Frederick Von Hayek, for example, ardently stated in his book "The Road to Serfdom" that the government should keep taxes low, eliminate government subsidies to businesses and maintain frugality during recessions.
Theories: Keynesian Economics
John Maynard Keynes, the "founder" of macroeconomics, has a different view of how the economy should be regulated. Keynes states that governments should increase spending, even at the expense of running a budget deficit, to keep the wheels of the economy spinning. He believes that governments play an essential role in managing the health of the economy through market regulation and taxation.
Misconceptions
Based on the amount of graphs and statistics covered in economics, many believe the field is a hard science. However, economics is actually classified as a social science. Stavros Loannides and Klaus Nelson, authors of the book "Economics and the Social Sciences," explain that economics is a subject that draws from "soft sciences" like sociology and psychology. They state that though economists like to assume individuals are rational decision makers, humans are also emotional decision makers. This emotional decision making is evident when stocks plunge out of concern for the state of the economy, or people choose to have kids when it's not economically feasible.