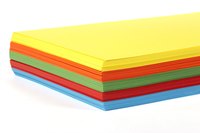 Card stock, also called cover stock, is paper that is heavier and thicker than regular copy paper or bond paper. As more people engage in desktop printing and do-it-yourself printing projects and crafts, understanding card stock rating has gained importance outside of the stationery and printing industries and is used for a variety of purposes.
What is Card Stock?
Card stock is the term applied to thicker heavier papers. They are more durable than plain paper or bond paper. Card stock can include oaktag, poster board and manila paper. It is widely available in different hues in the natural white-cream-gray spectrum and in a variety of bold and pastel colors.
Card Stock Materials
Some manufacturers make card stock from recycled paper, linen, cotton and velum. Like paint, it is also available in different sheens from flat to glossy, or coated and uncoated. Because all paper is described in weight, it is important to indicate the weight and type of paper. Text paper and card stock with the same weights have very different properties.
Thickness and Weight
Paper is rated in weight by pound and by thickness in point. A higher-weight paper is heavier. Most card stock ratings are between 35-pound and 140-pound weights. Paper with a higher point size (or caliper) is thicker. Point sizes are equal to 1/1000 (or .001) of an inch. Most point sizes are between 8 and 14 points.
Uses
Card stock is used for a variety of stationery products including business cards, index cards, post cards, greeting cards and invitations, brochures and report covers. Because of its durability and ease to fold, lower weight, often, card stock is used for the cover for such small publications as program books or for folded note cards. Sheets of card stock larger than letter, legal or A4 paper are used for oaktag or poster board for crafts or educational and presentation projects.
Specialty Card Stock
Finish, paper material and color help determine what makes a specialty card stock. Specialty card stock is still rated the same in terms of weight and point size as regular card stock. Specialty card stock can include vellum, linen and parchment in terms of material and metallic colors