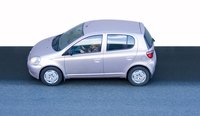 The U.S. Environmental Protection Agency began the SmartWay program in 2004 as a way to improve the environment and reduce fuel consumption. The EPA certifies vehicles based on how environmentally friendly they are. The agency then adds SmartWay-certified vehicles to a shopping guide to direct consumers to greener transportation.
About
The EPA says it created the SmartWay brand as a way to promote the use of more fuel-efficient and cleaner-burning vehicles. The EPA scores vehicles every year to determine if they meet SmartWay criteria, then presents them on a list paired with their fuel economies.
Scores
Vehicles receive scores between one and 10 for pollution and greenhouse gases. The higher the score, the less pollution produced. For the EPA to certify a vehicle, it must score at least six in each category and a total of 13 combining the two. EPA considers vehicles "Elite" when they score at least a nine in each category, totaling 18 overall. In 2007, the Ford Focus, Honda Civic GX and the Toyota Land Cruiser earned the Elite distinction.
Shopping
The EPA provides two ways for consumers to find SmartWay-certified vehicles. The agency provides a list of all the vehicles it has designated as SmartWay (See Resources). The list organizes the vehicles by state, year, make and model. The EPA also has a widget for SmartWay-certified vehicle shopping.
Transport
Semi-tractor trailers and other transportation vehicles can also join the SmartWay program. The transport program has goals similar to those for vehicles—reduce emissions and increase fuel economy—as well as improve efficiency for the companies. Companies participating in SmartWay include UPS, Best Buy Co., JC Penney Co. and Pepsi Co., among others.
Finances
Many companies avoid upgrading to greener vehicles because of upfront costs, the EPA says, so the agency helps with financing. The EPA in 2008 issued more than $3.4 million in loans to help small trucking companies change over to SmartWay. The agency also gave out $20 million in 2009 for its Clean Diesel Finance Program, which was funded by the American Recovery and Reinvestment Act. The EPA plans to issue $10 million more through its finance program.