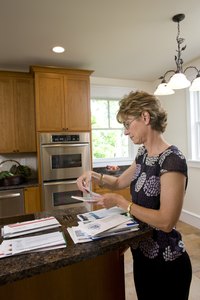 In the United Kingdom, the Limitations Act can be a barrier to collecting old debts. The 1980 law spells out how long creditors and debt collectors in England and Wales have to collect money from debtors. Once the limitation period expires, the debt becomes uncollectible.
Time Limits
The Limitations Act clock starts ticking from the time you made your last payment. Six years after that, if all conditions are met, an unsecured debt -- one with no collateral -- becomes unenforceable, according to the In Brief website. If mortgage debt is the issue, the creditor may get 12 years to collect. If during the six or 12 years you make another payment, or admit in writing that you owe the money, that resets the clock. The Limitation Act also doesn't apply if the creditor already has a judgment against you.
Your Legal Rights
If the six-year period expires, the burden of proof shifts from you to the creditor. He can try to sue you, but he has to prove that the Limitation Act doesn't apply. If he harasses you or keeps demanding you pay the money, you can file a complaint. The Money Aware website says the best approach is to contact the creditor or debt collector and inform him of the facts. If he has proof you're wrong, he'll have to show it.
Scotland and Ireland
The Limitation Act doesn't apply if you live in Scotland. Instead, Scots live under the Prescription and Limitation Act of 1973. As a debtor, you actually get a better deal: Debts become statute barred after five years, rather than six. As with English law, you can lose your protection if you admit to owing the money or make a payment. You're also out of luck if a court has ruled that you owe the debt. Northern Ireland hews to the English model with a six-year limit on debt.
The Financial Ombudsman
If the debt collector ignores the time limit and refuses to stop, contact the Financial Ombudsman Service. Parliament set up the organization to hear complaints against banks and finance firms. You can contact the service by phone, online or through the mail. If you mail a complaint form, don't send any supporting documentation with the letter. The service's website recommends you give the creditor at least eight weeks to work things out before filing a complaint.