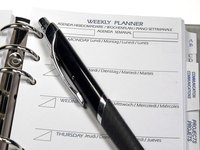 Project risk management is a method of finding risks, classifying risks and mitigating risks. It involves both quantitative and qualitative methods of ranking risks according to their potential to create problems. Large organizations such as government agencies and corporations establish project risk management guidelines so they have a standard process ready for use on any new proposal.
Quantitative
Quantitative risk analysis provides a numeric value for the severity of a risk. A risk register is a useful tool for assessing risks. The risk register lists many possible risks, including several factors that include the likelihood of the risk occurring and the impact of the risk if it does occur. These two values are assigned numbers and multiplied together, providing another number as a measure of the severity of the risk.
Qualitative
Of equal importance are the qualitative traits of the risk. A narrative is a useful tool here. The risk manager writes out a business case in which the risk occurs, including the likely consequences and how the organization would deal with the problem after it happens. A manager with expert knowledge can also provide insight into qualitative risks.
Mitigation
Risk mitigation is part of project risk management. The risk manager creates several methods of mitigating each risk. Mitigation methods are ranked by their traits, such as cost, time to implement and effectiveness. The organization then implements the mitigation method. Once it is complete, the risk may be considered closed if the mitigation successfully reduces the severity below a threshold that the risk manager defines.
Contingency
Contingency is a component of project risk management. The risk manager cannot predict all possible risks, especially if an unexpected event outside the organization occurs. A risk management plan includes additional resources to deal with contingencies. It is helpful to compare previous projects to their original budgets to determine how much money to add to a budget for contingencies. According to the National Academies Press, contingency risk is also a descriptor for systematic errors. A manufacturing process might be expected to produce an unsuitable product 1 percent of the time. Combining these two types of contingency risks into one budget item can create conflicts between managers and owners.
Project Portfolio Management
Project portfolio management is project risk management where the risk manager is responsible for many projects occurring at the same time. Like a stock portfolio, the manager balances the risk of the entire portfolio by adding or removing individual projects to change the expected risk or reward. As with a stock portfolio, correlations between projects are very important. The manager must know how independent the projects are from one another to reduce the risk of several projects failing at the same time.