A growth plate is an area of growing tissue located near the end of the long bones of the body. These bones include the fingers, forearm (radius) and lower leg bones (tibia and fibula). When you are born, the growth plates are actually cartilage, which is a soft, rubbery material. As you grow, the cartilage of the growth plates slowly hardens into regular bone.
Skeletal Maturity
Skeletal maturity is considered the point when the growth plates fully close, or harden. Boys and girls reach social and emotional maturity at different rates, and they also reach skeletal maturity at different rates. Boys typically reach skeletal maturity between 16 and 17 years old, and girls typically reach skeletal maturity between 14 and 15 years old.
Fractures
Prior to reaching skeletal maturity, the growth plates are susceptible to growth plate fractures because the growth plates are more fragile than the bone, muscles and tendons. About a quarter of all fractures in children are growth plate fractures, according to the American Academy of Orthopaedic Surgeons. Growth plate fractures are classified according the severity of damage to the growth plate. One common classification system used by orthopedists is the Salter-Harris system. Treatment of growth plate fractures depends on the type and severity of the fracture, but it frequently includes cast immobilization and sometimes surgery.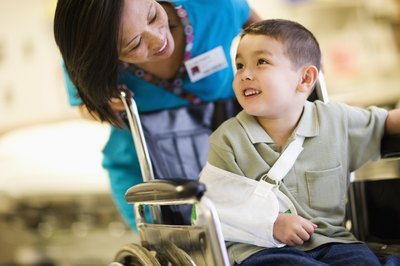 Bone Age Study
A test called a bone age study can determine the level of skeletal maturity. A doctor might recommend a bone age study (sometimes called a bone age test, assessment or x-ray) as a way to diagnose conditions that inhibit or accelerate growth. Doing a bone age study involves getting x-rays of the left hand and then measuring the size of both bones and growth plates.
Diseases
There are several diseases that can impact the growth plates. For example, Panner's disease, which impacts the growth plate in the elbow, occurs when development is disrupted because the bones in the elbow don't get enough blood supply. Sever's disease is inflammation of the growth plate in the heel. And Osgood-Schlatter disease is inflammation of the bone, cartilage and tendon at the top of the shinbone.
Exercise
There is a misconception that resistance training and other sports training can stunt a child's growth because it damages the growth plates through repetition, stress and unusual motion. Current studies and practice have shown that when done properly, resistance and sports training can be safe and effective for kids.