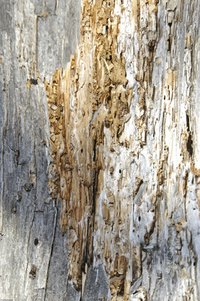 In some respects, termites suffer from poor public relations. You may think their razor-edged teeth look dangerous, but in reality the biggest danger is to your house. Their teeth cut through wood and, in really bad cases, work their way into stored food, books and furniture, according to the University of California Statewide Integrated Pest Management Program. This type of damage causes public health risks, as these insects can make your home structurally unsafe.
Basics
If you see a termite, at first you may think it's an ant--only smaller, according to Orkin. Another feature that distinguishes this insect from an ant is its powerful jaws, which act like saws to cut through lumber. Never fear, though: They're not interested in you. They don't bite humans and they won't bite Fido or Fluffy either. They also don't carry diseases the way mosquitoes or ticks do, according to insecticide company Termidor's Termite Institute—a forum for termite experts.
Public Health
They may not want your blood, but termites do want your house—its lumber. If left untreated, your house may suffer structural damage as these insects are equipped to slice through wood. In fact, some types of termites are responsible for the collapse of entire structures, according to the National Pest Management Association (NPMA).
Risk
There are more than 2,500 different types of termites, according to the University of California's Integrated Pest Management (IPM) program. The most common types are subterranean, damp-wood, dry and Formosan, but it's the damp-wood termite that can pose the biggest public health risk. They have particularly strong jaws, according to NPMA, capable of tearing at large chunks of moist lumber. It is this termite variety that is typically responsible for the most major structural damage.
Mold
Another danger tied to termites is their association with moisture; most types are drawn to watered-down wood. In fact, the University of Nebraska-Lincoln extension office reports that 95 percent of all termite infestations are connected in some way to moisture problems, be it a leaky roof or leaking pipes. The same dampness that attracts termites to your abode is also a breeding ground for mold, which is responsible for other public health concerns, including upper respiratory problems, according to the Mayo Clinic.
Treatment
The chemicals you use to do away with your termite problem have long been associated with health risks, according to Dr. Andrew Weil, owner of integrated medicine company Weil Lifestyle. A common colorless and odorless product, Vikane is released into a carefully sealed home to fumigate it. According to Weil, such gases are toxic and have been linked to bone- and blood-related disorders.