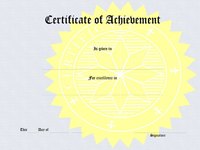 Credentialing is the process of awarding a credential following the review of an individual or organization's qualifications. For example, insurance companies evaluate the professional education, training, residency, licenses, practice history and board certifications of physicians before including them in the provider network for patients. Consumers should review each credentialing body for the methods it applies to candidates in this process.
Signficance
Credentialing gives successful candidates a valuable recognition (or benchmark) from the credentialing body. For example, when a lawyer becomes a member of the American Bar Association, consumers know the lawyer has completed a rigorous set of qualifications to earn the membership. The social and economic values of the credential make it attractive for individuals to become credentialed by their professional body.
Design
Credentialing is a uniform process that has been agreed upon by the members of the credentialing body. That means the body applies the same standards to every application for a credential. Uniformity does not mean exceptions are never made, but every applicant begins the process with the expectation of measuring up to the standards.
Use
Credentialing is useful for creating standards within an organization as well as for evaluating external applicants. For example, the Federal Emergency Management Agency faced the problem of nonuniform standards for disaster workers in 10 regions around the country. The development of a standard credentialing program through a written plan (completed in 2008) ensured that all FEMA disaster recovery workers are now governed by the same national standards.
Warning
Credentialing is not always a one-shot deal. If a candidate wants to apply for a professional credential, one submission of materials may be all it takes. In other circumstances, credentialing requires multiple steps. For example, when an educational institution applies to the California Commission on Teacher Credentialing, it may receive an initial institutional approval to offer educator preparation programs. Next, the institution must submit a proposal and wait for the commission to review its proposal on a predetermined schedule. Like many credentialing systems, the California Commission requires the educational institution to complete steps in the future to maintain its credentials.
Considerations
Credentialing is also useful, as in the case of FEMA, for recruiting workers into an organization and training them. When the organization publishes its credentialing system or what independent credentials it accepts, the organization informs job applicants of its standards. Applicants know when they apply for a position whether they have the credentials (or bundles of qualifications) that will help them get the job. This type of matching between job applicants and business needs creates the potential for successful employee placements.