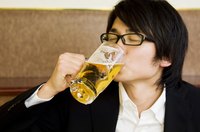 You'd be hard-pressed to eliminate cellulose gum from your diet -- it's in a variety of foods, drinks and cosmetic products -- but you don't really need to. The gum is added to foods to help stabilize, thicken or bind them, and it's a safe ingredient. The use of cellulose gum can actually have some health benefits, so if you see it in an ingredient list, you don't need to worry about it having a negative effect on your health.
Where Cellulose Gum Comes From
Cellulose is a carbohydrate that comes from the woody parts and the cell walls of plants. In fact, all plants create cellulose as they make their cell walls, which is what helps make their stems and veins form normally, Steve Ettlinger notes in his book "Twinkie, Deconstructed." Many of these plants then become a source of fiber in your diet. Cellulose gum is made by combining cellulose with acetic acid.
What It Does
The additive helps improve the texture of foods and acts as a stabilizer in certain beverages. It helps prevent sugar from crystallizing and keeps fruit from settling to the bottom of a container. Cellulose gum binds well with gluten, so it's often used to improve the quality of baked goods, according to Mary Jean Cash and Sandra J. Caputo, authors of Chapter 6 in "Food Stabilisers, Thickeners and Gelling Agents."
Where It's Found
Cellulose gum is added to certain fruit products, such as canned pie fillings and fruit jellies. It's also found in many grain products including tortillas, bread, instant noodles, cakes and baked goods. Cellulose gum helps preserve the texture of frosting, icing and glazes, and you'll also find it in beer, ice cream, frozen desserts and protein drinks such as drinkable yogurt. Certain fruit-flavored drinks might also contain cellulose gum, Cash and Caputo note.
Reap the Nutritional Benefits
Cellulose gum, like other types of fiber, isn't absorbed or digested. However, it isn't as nutritious as whole foods such as fruits and vegetables, which contain a wealth of other nutrients. Because it isn't digested, cellulose gum is added to certain diet foods to reduce the overall fat and sugar content without compromising the flavor.