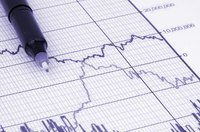 A financial institution that engages frequently in lending or securities exchanges transactions typically incurs losses due to inflation and interest rate risks. Inflation risk relates to decreases in investment values over time, whereas interest rate risk is the risk of loss arising from unfavorable rate changes in financial markets. A financial company must establish sound risk management procedures to prevent operational losses due to interest rate and inflation risks.
Interest Rate Risk Defined
Interest rate risk is the risk of loss that may emanate from changes in interest rates that are unfavorable to a financial institution's investment portfolios or outstanding loans. To illustrate, assume an investment bank lends $10 million at 8 percent annual interest rate and payable over 20 years to a small department store. The store must pay $800,000 to the bank every year. If market rates rise to 10 percent after two years, the bank is losing $200,000 every year because it could lend the same amount to a new borrower at 10 percent.
Interest Rate Risk Significance
Interest rate risk is significant to a financial institution because lending activities, and the fees that they generate, typically represent an important portion of net profits. Accordingly, top management usually establishes internal reviews and policies to monitor this risk. For instance, if the investment bank lending to the department store does not put into place a procedure to resell the loan to another investor, it may lose $200,000 annually over a 20-year period.
Inflation Risk Defined
Inflation risk is the risk of loss originating from decreases in an individual's purchasing power or a financial institution's investment portfolios. As a practical matter, consider that an individual spends $300 on groceries and entertainment activities every month. After six months, food prices and movie theater tickets may increase by 20 percent, and he now may need to spend $360 on the same items. The 20-percent price increase may be due to inflation.
Inflation Risk Importance
Inflation risk is critical for an individual who thinks about retirement planning because the current value of $1 may be lower in the future. In other words, a consumer may need to spend more in the future to buy the same items because of price increases. A financial company also may need to monitor investment portfolio values because asset value decreases are typically reported as losses in corporate financial statements.
Interest Rate Risk Versus Inflation Risk
Interest rate risk and inflation risk are typically distinct, but there may be instances where the two risks interrelate. As an illustration, assume that a bank lends $1 million to a pharmaceutical company at 5 percent annual interest rate to be reimbursed over 10 years. If, after five years, market rates rise to 8 percent, the bank is losing $30,000 because it receives only $50,000 per year from the borrower instead of $80,000 that market rates require. The bank also incurs inflation losses because $50,000 received in three or four years does not hold the same value as it does currently.