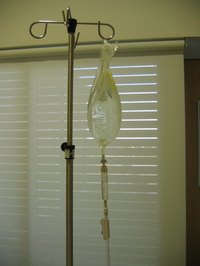 Sterile water for injection, USP is a sterile, bacteria-free, solute-free preparation of distilled water for injection. It is used as a sterile solvent or diluent vehicle for drugs or solutions suitable for intravenous or intramuscular administration. In this application, it provides water for hydration and the drug delivery to the patient. The pharmacist typically introduces these additives and relabels the container for patient application.
Identification
Sterile Water for Injection is a clear, colorless, odorless liquid chemically designated as H2O. It is as pure as water can be processed. Sterile Water for Injection is a diluent or solvent suitable for patient applications after first having been made isotonic by the addition of a suitable solute. The pH is targeted at 5.5 (5.0 to 7.0 range).
Sterile Water for Injection contains no bacteriostat, antimicrobial agent or added buffer and is intended only for single-dose injection after admixture with an appropriate solute or solution. When smaller amounts are required, the unused portion is discarded. It is provided in vials, bottles, flexible and plastic containers in ranges from 50 to 2000 milliliters. The headspace in the container is a vacuum when in glass to facilitate addition of drugs.
Significance
When administered intravenously as a vehicle for drugs, Sterile Water for Injection provides a source of water for parenteral fluid replenishment after proper osmolarity has been achieved. The osmolarity of the solution determines the direction of water flow into or out of the cell. In normal body situations, solute concentration within and outside the cell is isotonic.
Mechanisms of Action
Osmotic effects are physiologically important since biological or cellular membranes such as red blood cells behave in a similar manner as a semi-permeable membrane. When red blood cells are exposed to a solution of higher osmotic pressure, they will shrink as water passes through their semi-permeable membrane in an attempt to reduce the chemical potential gradient between the two. Obtaining an effective osmotic pressure with additives in solution is termed the tonicity of the solution. Tonicity is concerned with the passage of water through a semi-permeable membrane. Solutions that have the same tonicity as blood are defined as isotonic. Those with lower tonicity are called hypotonic, and those higher are called hypertonic.
Applications
Sterile Water for Injection is indicated for use only as a solvent or diluent vehicle for parenterally administered drugs or solutions and as a source of water for parenteral fluid replenishment after suitable additives are introduced to avoid tonicity of the blood. In some cases, it may be used as a lavage or rinsing agent, but isotonic solutions suitable to the area of exposure are preferred if available.
Precautions & Warnings
When used for intravenous use, solutions must be adjusted for isotonicity, usually by a trained pharmacist or technician. Because of its potential to be mistaken for a container of Dextrose 5% for Injection or Saline 5% for Injection, Sterile Water for Injection containers are generally kept away from patient floors and common stockrooms.
Potential adverse reactions may include febrile response, infection at the site of injection, venous thrombosis or phlebitis extending from the site of injection, extravasation, and hypervolemia.