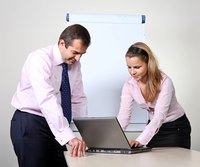 Ethics awareness training prepares business professionals to make sound decisions. In each situation, an employee must seek a balance between personal interests and professional obligations. Through unethical behavior, an employee can expose a company to damages and possibly encounter criminal penalties. Following the 2001 Enron Corporation collapse and subsequent corporate scandal, key executives, including CEO Jeffrey Skilling, were convicted of various federal charges for unethical and illegal business practices. In 2006, Skilling was sentenced to more than 24 years in federal prison for fraud, conspiracy, insider training and lying to auditors.
Definition
Ethics awareness training educates managers and employees about expectations for ethical behavior on the job. Examples of training topics include: avoiding conflicts of interest, divulging confidential information, insider trading, using consumer data for outside business interests, misusing company resources and mismanagement of contracts.
For example, Motorola Corporation's ethics training program in 2009 recognized that the poor economy increased the temptation for unethical behavior. The training program "reinforces the message that no matter how strong the pressures are to deliver business results, senior management expects employees to always act with integrity and to speak up if they have ethics or compliance concerns."
Compliance
Some corporations conduct business with federal, state and local governments and may be required to offer ethics awareness training. Motorola made a change in 2009 to centralize all government contracts in one office while also increasing ethics training across the company. Lockheed Martin, a government contractor, posts ethics awareness training materials on the corporate website for company-wide use and public viewing. When company leaders show how they implement ethics awareness training, they add a layer of transparency to their business operations.
Training Scenarios
Many training programs use scenarios to help employees make ethical decisions after considering a case in which an employee or the company could benefit from an unethical business decision. For example, Motorola's program uses scenarios to help employees consider why behavior is unethical and what consequences might be applied to employees found to engage in unethical practices.
In one scenario, an employee is asked to translate a document which is really a competitor's bid for a project. In this situation, the employee should refuse to translate because she and her coworkers should not be viewing the competitor's bid. This knowledge would represent an unfair advantage in the bidding process.
Considerations
New issues for corporations arise from complying with transparency in financial reporting to auditors and other federal requirements, such as protecting the data privacy rights of consumers under the Sarbanes-Oxley Act. These issues suggest the importance of updating ethics training information regardless of whether the company is a government contractor. An example of a training conference that addresses these issues was offered by the American Conference Institute in 2009.
Significance
This type of training is especially important for first-line supervisors. The 2009 National Business Ethics Survey conducted by the Ethics Resource Center found 46 percent of all complaints are reported to the first-line supervisor. Because they are the "eyes and ears" of the company, these supervisors "need adequate resources, support, and training to address the stress created by and the additional misconduct related to the implementation of company tactics," according to ERC.
Supervisors are the "eyes and ears" because they can directly observe employees engaging in unethical activities. They are also responsible for policy implementation, including instances when company cost-cutting tactics that raise ethical flags cause concerns among workers or lead to an increase in worker misconduct.