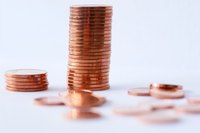 Money is a mystery to many people. Many believe the U.S. government coins and regulates the value of the dollar. The fact is that a small group of private bankers, called the Federal Reserve, make and regulate the value of money through the continually adjusted prime rate of interest (how much money costs to borrow).
History
There have been many theories as to how money is valued. It used to be based on an underlying commodity, such as gold, and the price of gold regulated the value of money, keeping it stable. That was abandoned in the United States in 1971 in a law signed by President Richard Nixon. Today, the Federal Reserve regulates interest rates, and it is this power that underlies the value of money. Some countries, such as China or Belarus, do not permit banks to regulate the money. Instead, the state controls how much money is in circulation.
Features
The price of money is based on its purchasing power. This may or may not have anything to do with the actual prime rate, which is based on fiat, or on the whim of the banks. Rationally, the value of money, independent of the Fed, is based on yesterday's purchasing power. Therefore, money is based on "pre-existing prices." Since money is based on what it can buy, a pre-existing price must exist for money to have value.
Theories
Other theories stress the simple demand for money by consumers and investors. People, in this view, give value to money by the simple act of using it all the time. This is called the "network effect." If enough people use a certain currency as money (whether dollars or beaver pelts), it will have value based on the size of the community of people who accept it as valuable.
Measures
In the United States, there are three specific measures to define how much money exists in the system at any given time. M1 is the most narrow measure, and it generally measures the amount of cash available in bank deposits. M2 includes all this, including all savings deposits of any kind, as well as all available liquid money in money markets. M3 is the broadest conception, and this includes all M1 and M2 figures, plus all forms of certificates and large liquid cash investments in dollars worldwide. All three of these measures together can give an estimate of how much readily available cash exists and thus gives a rough idea of the dollar's value.
Significance
Since money is based on what it can buy, a pre-existing price must exist for money to have value. The real significance here is that the value of money dictates how much your savings, earnings and debt is worth. If the value of money is low, then your salary is low, but your debts are equally low.