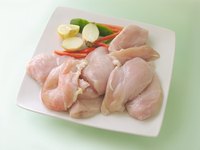 The protein and water diet is short-term method of shedding fat while maintaining muscle tone. It is generally not regarded as a healthy or sustainable way to permanently lose weight. High-protein diets have similar aims as the protein and water diet but call for less-extreme dietary restrictions and can be followed on a long-term basis. Before attempting a protein and water diet, it is crucial to understand the potential risks.
Goals
The goal of high protein diets such as the protein and water diet is to lose body fat while retaining or gaining muscle. Protein-based diets were originally practiced by bodybuilders, but the concept has become popular among people looking to lose weight and develop muscle tone.
Protein and Water Diet
One popular version of the protein and water diet is the tuna and water diet. The dieter should consume tuna and water alone for the first three days. After this initial phase, chicken, cottage cheese and vegetables can be introduced. It is important to take vitamins and fiber supplements.
High Protein Diet
Unlike a pure protein and water diet, high-protein diets allow for some carbohydrate consumption and are sometimes followed for extended periods of time. The American Heart Association recommends adults consume 50 to 60 grams of protein per day, amounting to 10 to 12 percent of their caloric intake. A high-protein diet typically calls for about 34 percent of calories to come from protein. Foods considered high in lean protein include chicken, turkey, egg whites, fish and low-fat dairy.
Risks
Consuming protein in excess may lead to health problems. Some of the issues associated with a high-protein diet are an increase in LDL (bad) cholesterol, calcium deficiency, kidney problems and excessive fat intake. These problems are primarily associated with over-consuming animal protein. Vegetable proteins such as soy can actually lower LDL cholesterol and raise HDL (good) cholesterol while aiding with calcium absorption. A study by the American Journal of Clinical Nutrition found no significant difference in cardiovascular health between women that engaged in intensive weight-loss training on high-carbohydrate and high-protein diets. Depending on factors such as exercise and type of protein, a high-protein diet may lead to health problems.
Healthy Weight Loss
The protein and water diet may help you lose fat and gain muscle tone in a short time, but it is not a sustainable or healthy way to stay fit. Successful weight loss is a mental and physical process that requires genuine lifestyle change. Eating healthily is a part of losing weight, but exercise, mental commitment and having a support system are also key components.