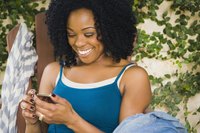 The acronym SMS stands for short message service, but you probably know it better as text messaging. SMS marketing entails using text messages for the delivery of marketing messages to customers. Just as important, customers read most texts within seconds, which makes SMS marketing much more effective when compared with other marketing approaches.
How It Works
Businesses and brands do not, as a rule, distribute their own SMS marketing texts. Instead, they contract with a text messaging platform provider. The business creates the actual messages -- typically with guidance from the platform provider regarding regulations -- to promote products, services and events. The platform provider then sends the messages to a mobile aggregator or mobile carrier, which delivers the messages to the customers on your opt-in list.
Minding the Law
Just as email marketing and marketing phone calls face stiff regulations, so does SMS marketing. Customers must opt in to a business' SMS program before they receive any text messages, and they must be given clear instructions on how to stop SMS messages from a business. The business must keep opt-in records and comply strictly with the stated number of messages per given period in the program agreement. For example, a business cannot send customers five texts per day if it indicated only one text per day during the customer signup. Businesses that sell age-restricted products, such as alcohol, must also verify customers' ages before sending any marketing texts.